You've explored Monstadt and Liyue. Now, get ready for Genshin Impact's newest region, Dragonspine. You'll find a Frostbearing Tree here, one that nets you rewards if you've got Crimson Agate. Here's our guide to help you out.
Note: For more information, check out our Genshin Impact guides and features hub.
Genshin Impact: The Frostbearing Tree's rewards, Crimson Wishes, and Crimson Agate
Once you reach Genshin Impact's Dragonspine region, you'll need to contend with new concepts such as the "Sheer Cold" mechanic and needing to unlock the Statue of the Seven.
Anyway, have you noticed those red minerals nodes in the zone? By smacking them with melee weapons, they'll turn into Scarlet Quartz. If you pick these up, you'll gain a warming buff symbolized by red energy or petals surrounding your character. Here's what happens while you have the buff active:
Speaking of the Peak of Vindagnyr, the quest for it called "In the Mountains" is actually what leads you to the Frostbearing Tree.
After speaking with Iris in the Adventurer's Camp, you'll learn that there's a point of interest in the Snow-Covered Path area.
Upon reaching this place, you'll find four Scarlet Quartz nodes and a large, frozen tree in front of you. Crush those nodes to get the warming buff, then hit the Frost Shard to damage it. You'll need to do this four times so look for those nodes to get their buffs.
Once the shard is destroyed, activate the orb to make the Frostbearing Tree appear.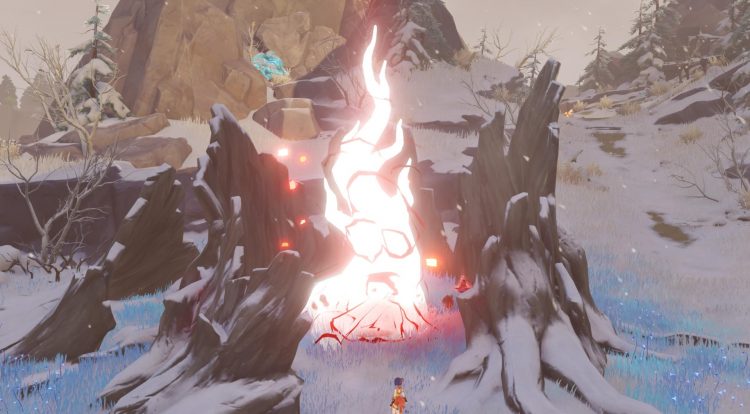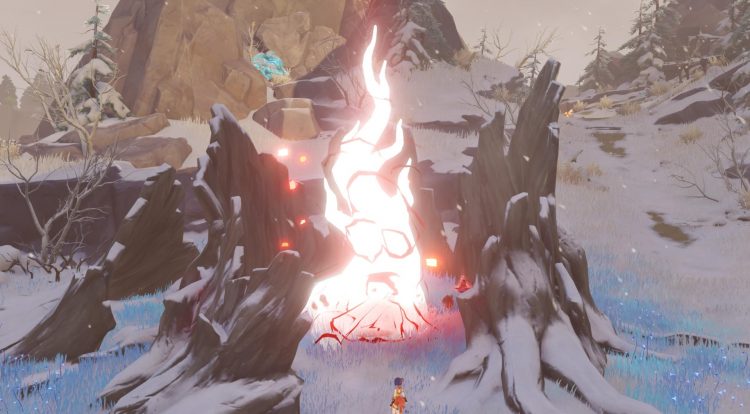 If you interact with it, you'll realize that it's somewhat similar to the Statues of the Seven in Monstadt and Liyue.
Like Anemoculus and Geoculus, you'll need to look for Crimson Agate to continue empowering it. These are scattered all over Dragonspine. I actually haven't found them all yet (so stay tuned while I go hunting for them).
Anyway, leveling up the Frostbearing Tree nets you some useful rewards like gold, enhancement ores, Intertwined Fate, Acquaint Fate (to add to your version 1.2 freebies), and more.
There are also talent level-up materials, cosmetic wings/glider skin, a forging blueprint for a catalyst, and a diagram to create a Warming Bottle (to fend off "Sheer Cold" effects temporarily).
Lastly, once the Frostbearing Tree reaches level 8, you'll unlock Crimson Wishes. These are short daily quests that reset every couple of days. Completing them nets you 1x Crimson Agate to help you empower the Frostbearing Tree past level 9.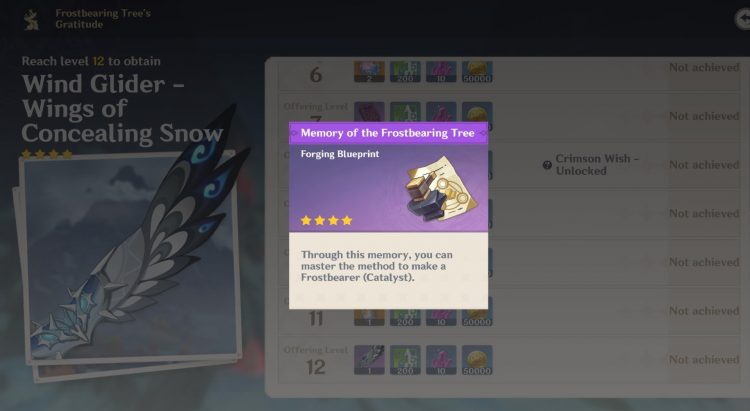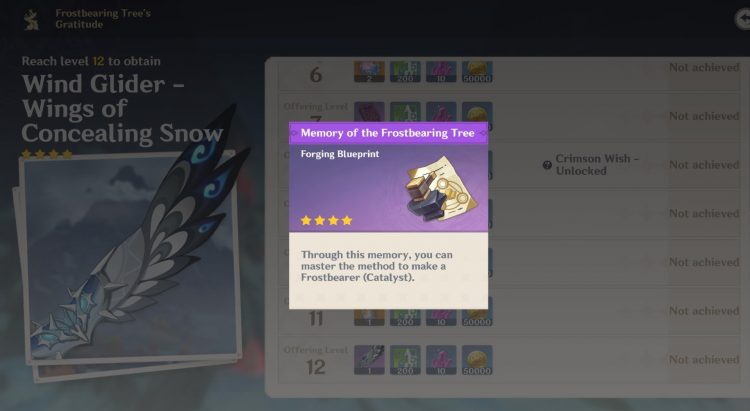 ---
Genshin Impact is available via its official website. For more information, check out our guides and features hub.