We've all made it this far, and that's plenty of reason to be happy! Now, as the year starts to wrap up, and the sales start to pour in, it's time to consider giving yourself a little treat! We;ve put together some things you might want to consider if you're looking for a little gift for yourself this year. Go ahead, you're totally worth it!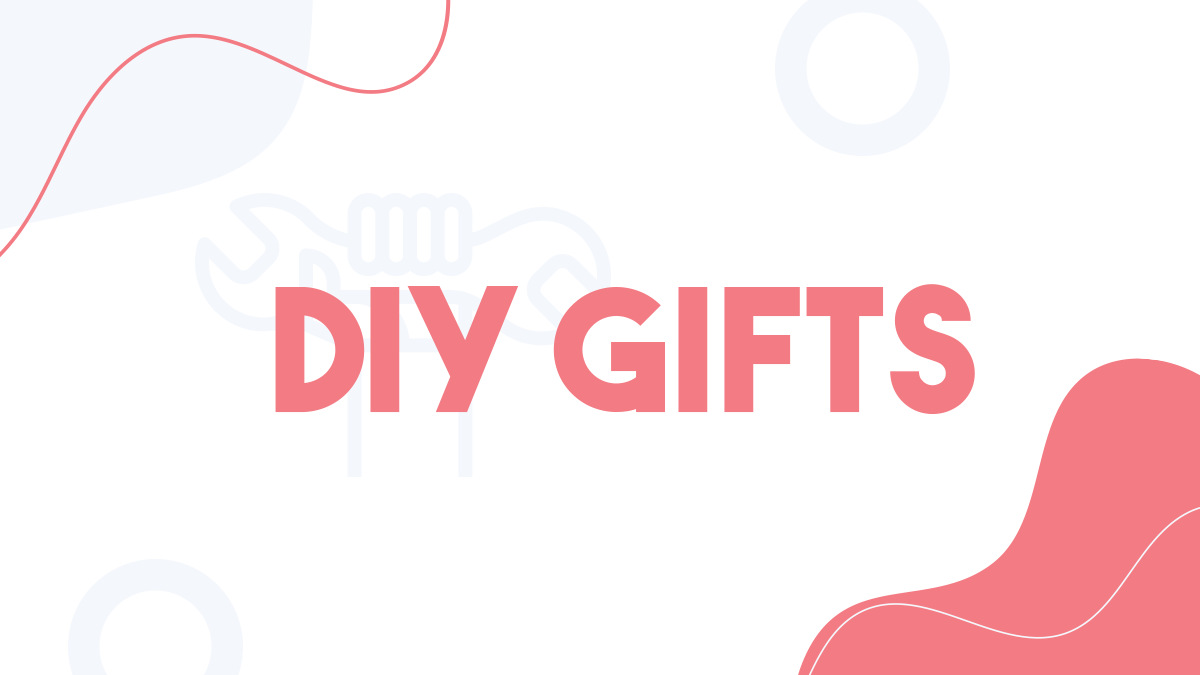 Words by Ren Alcantara
Ok, just to clear things up this early, if you're looking for gift ideas that involve lots of cardboard, recycling, and quaint, shabby-chic, this isn't the article for you, sorry. This article is about treats you can give yourself if you're into making stuff. There are of course essentials that every DIY-er should have in their arsenal, but we're here to give that little extra that you might appreciate, just to make your do-it-yourself adventures a little easier, and a lot more fun.
TS-80P Soldering Iron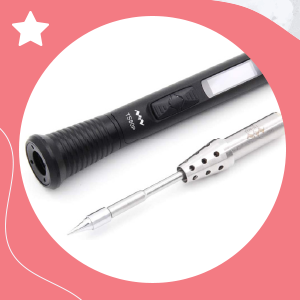 If you're at all into DIY electronics, you're going to want a soldering iron. Sure you can head over to the nearest hardware store and get something cheap, and that will work, but it's not going to make your job particularly easy. If you want something that lasts, is super convenient, and much friendlier to use, pick yourself up the TS-80P soldering iron. This little pen-sized powerhouse packs a potent punch. Running off of a USB source with QC 3.0 compatibility, you can get going with a wall charger, or even a powerbank, on the default firmware. You can even flash custom firmware for more options powering it. Yes, it can take custom firmware. It also has variable temperature settings, a rest mode, auto sleep, and removable tips that can be replaced easily and safely even when hot, thanks to a barrel-mounted ejector.
Don't let the 30W output fool you. From a dead start, it hits 370 degrees C in under 15 seconds. It comes with a great USB-C connector that's heat-resistant and super light, a grounding strap so you can safely use a wall charger (though I much prefer using a power bank on my older, but essentially same TS-80), and a compatible wall plug, so you can get right on it. It's small, usable in the field, and offers more than enough power to handle small to medium soldering jobs (I've done XT60 connectors with mine—no trouble at all). Really, it's everything you'd want in a home gamer setup, and you can take it with you wherever!
Silicone Soldering Mat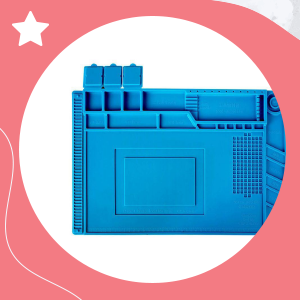 While not quite the game-changer the TS-80/TS-80P is, a silicone mat is a small QOL upgrade that, if you haven't gotten yet, you'll wonder why not. These mats roll up for storage, are wonderfully heat-resistant, so you won't have to worry about your desk getting messed up, and some models even have little pockets for screws, components, and other odds and ends. It's also great at keeping your project from slip-sliding away while you work, and as a bonus, can be had in colors that contrast any little pieces that you might otherwise not see easily.
Jeweler's Loupe or Handheld Magnifier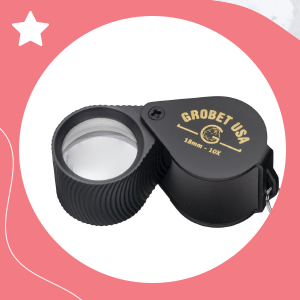 When squinting at small components, it's time to call in a little magnification. An illuminated magnifier make short work of looking at tiny components to make sense of what's going on. These can be helpful when you're trying to identify SMDs, tracing connections on boards, or checking to see if something let the magic smoke out. There's no shame in using it, and it makes the whole process just that much easier for you.
Remember not to go overboard with magnification. The lowest you can get away with is going to be much less of a struggle to use while still offering great results.
Auto-Ranging Multimeter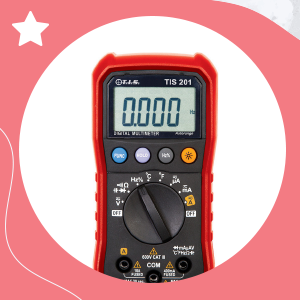 Yes, you can get away with a really cheap digital meter that makes you set the correct range when you're measuring, but that's an extra step that slows the process down, and if you're troubleshooting, it complicates matters further. Treat yourself and score an auto-ranging meter from a decent brand, and you're going to thank yourself in the long run. It can be as fancy as your needs and budget allow, but as with any tool related to diagnosing problems, getting something that lets you find the issue rather than just adding to the unknowns is well worth its weight in gold.
Xiaomi Wowstick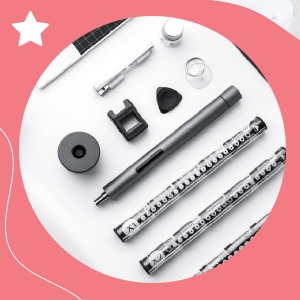 For small jobs, this is a great little tool to have. Whether you're opening up a laptop for repair, or digging into an audio system to salvage parts, you're going to be faced with a lot of screws. When you're processing a lot of things at once, or if you're constantly going back in to do some tweaks, using a precision screwdriver can cause your hands to cramp up. This little electric precision screwdriver comes with many of the more common, useful heads, so you don't have to worry about what it is you're trying to crack into. It also has plenty of torque to bust stubborn screws free and can be used as a manual driver if you really want to give it what for. It comes with a nice case, as well as with storage for all the bits that they throw in there, as well as a base, so your handy electric screwdriver has a permanent home on your desk.
Power Supply Module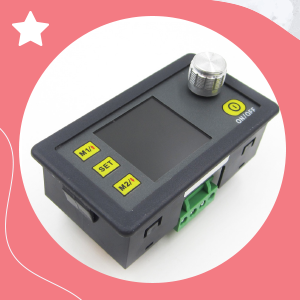 For a longer time than I care to admit, I was using a usb wall charger, a stripped USB cable, and a buck/boost converter for my desktop tinkering. Yes, it was a savage existence, and while it was cheap, it had its own set of problems. While I appreciate those days and how they taught me to make do with what I had, a cheap power supply module online plus a regular laptop wall charger was a huge step up. Essentially a digital buck-boost converter with adjustable current and a display, it's simple but does the job exceedingly well. Apart from very granular control over voltage and current settings, everything was much simpler—I even got around to making a case for it as a side-project. The case has since fallen apart, but that first power supply still works, and to this day, I use it to power my DIY LED worklight. These modules are cheap, plenty good enough for the simple stuff, and work more or less as advertised. Thy let you do a lot of things much more precisely, and can even be used as a semi-permanent, if expensive power supply for other projects.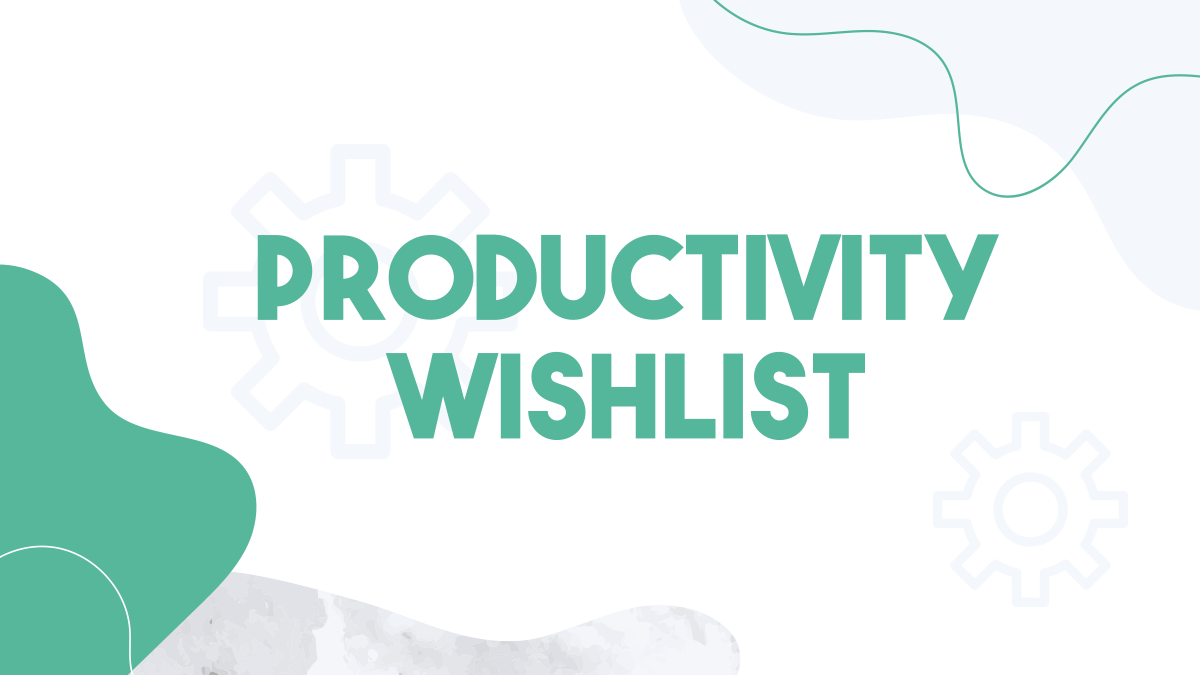 Words by Gabriel Pe
It's that time of the year — the tree is out, stockings and decorations are hung. All that's left is the wishlist to be filled.
During the last couple of months, working has been warped in a new dimension, no thanks to the pandemic. For a lot of Filipinos, working has slowly blended with their at-home life. This new setup has sparked a need for new productivity tools to help us navigate our new lives.
With that, here are some of the productivity gadgets in my personal wishlist.
Samsung Galaxy Tab S7
Samsung, in my opinion, has slowly leveled out the playing field in the tablet wars. The Galaxy Tab S7 is definitely the brand's best tablet yet. It has a 120 Hz 11-inch IPS-LCD screen with 1600 x 2560 resolution and HDR10+ capabilities. It's powered by a Qualcomm Snapdragon 865+ processor with an Adreno 650 graphics.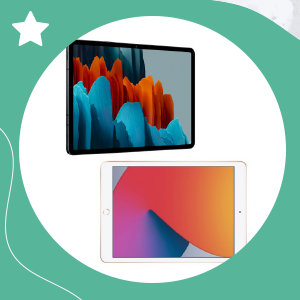 What makes the Galaxy Tab S7 the perfect productivity tablet is Samsung's new Dex implementation, with the tablet able to run Dex without the need for a separate screen or a hub. Dex transforms your Samsung device to a recognizable Windows-like UI.
Budget alternative: Apple iPad 8th Gen.
The 8th Gen Apple iPad is a great budget tablet option thanks to its new A12 Bionic chip and a larger 10.2-inch screen. The new processor allows you to edit HD videos straight on your tablet. The Apple Pencil capabilities also make it the perfect companion for artists, while the Apple Keyboard and the new iPadOS makes it a great laptop replacement for light users.
Apple Watch 6
Smartwatches have slowly evolved throughout the years to the point that it's now practical to own one thanks to the myriad of new sensors and features fitted in them. Apple's Apple Watch has slowly developed over time to become one of the leading smartwatches in the market. The sixth-generation Apple Watch is now equipped with a Blood Oxygen (SpO2) sensor with the same formula that made it successful in the first place.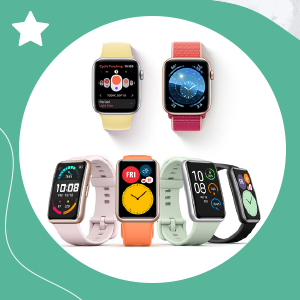 Why would you want a smartwatch for productivity? For me, it helps keep my phone down with notifications showing up on my wrist, I don't have to place my phone directly beside me. The Windows phone app allows me to stay on my laptop and reply to messages I see on the watch. Add a great wireless headset and you can even answer calls while listening to great tunes all without the unnecessary distraction of your phone. Plus, smartwatches also offer exercise routine, which I unfortunately always forego.
Budget Alternative: Huawei Watch Fit
Huawei's Watch Fit is a great budget alternative for smartwatches. The PHP 5,000 watch offers a large screen with some of the great features you can find on the flagship watches such as the Blood Oxygen s (SPO2) sensor. The Huawei Watch Fit was really meant for the active person (which is not me), but it still has the necessary notification functions that will keep your phone down for sure.
Bose QuietComfort 35 II Gaming
The Bose QuietComfort 35 II has long been a top recommendation for a great wireless headset with active noise canceling feature. The newly released Bose QuietComfort 35 II Gaming has the same great audio performance now with some features dedicated to gaming fans. Included in the box is a detachable mic that's Discord and TeamSpeak certified. Also in the box is an optional USB controller for PC which allows users to adjust the volume easily.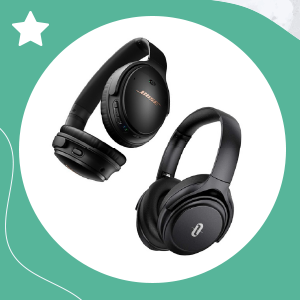 Honestly, I've been dying to get my hands on a really great pair of Headphones with a great active noise cancellation feature. As someone who prefers multifunctioning gadgets, these cans definitely check all the boxes for me: gaming, Bluetooth, and above all else great sound.
Budget Alternative: TaoTronics SoundSurge 85 ANC
After scouring the internet for a decent pair of cans with ANC, many recommended the TaoTronics SoundSurge 85 ANC. These cans have ANC, 40mm drivers, Bluetooth 5.0, USB-Type C charging, and a 40H rated playback time. While my heart is already set with the Bose, I am genuinely curious to try out the SoundSurge 85 ANC since these cans only cost about PHP 3,500 which is way cheaper than the Bose.
Samsung Galaxy Note 20 Ultra
I am a huge advocate of working on the go, but I am also an advocate for working light. Being a tech writer, I need a lot of gear when attending events: a great camera, a laptop for writing, and a recorder for interviews. This is where the Samsung Galaxy Note 20 Ultra comes in. It has a great camera (goodbye bulky DSLR), a powerful enough processor to help write the article, and a ton of other features courtesy of the S Pen, plus it's 5G ready, for fast internet access in areas where it is available.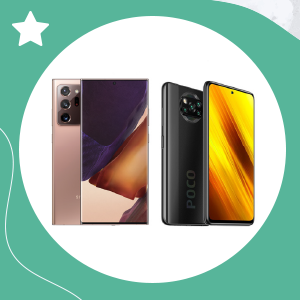 I was torn between the Galaxy Note 20 Ultra and the Galaxy Fold 2. The Fold 2 does offer bigger screen real estate when in tablet mode, but the reputation of Samsung's Note series ultimately tilted scales in its favor.
Budget Alternative: Xiaomi Poco X3 NFC
From the ultimate smartphone to the budget alternative. The last couple of years have shown us that smartphones can be feature-packed without breaking the bank. The Xiaomi Poco X3 NFC is the perfect example of a feature-rich smartphone with great value. The 120 Hz refresh rate screen, the Qualcomm Snapdragon 732G processor, and the 64-megapixel camera all while staying under the PHP 15K price point. Additionally, it has NFC which can be used for Google Pay which is really great in promoting digital payments in the country.
HP Spectre x360
If you've been reading some of our past issues you would know that I am crazy for this laptop. The HP Spectre x360 remains one of my top laptops for 2020, and if you've tried it you'll definitely agree. It's extremely portable weighing less than 1Kg, powerful thanks to the 10th Gen Intel Core i7-processor, and best of all it's a convertible. HP even included its own Wacom certified stylus in the package. The portability and versatility of this laptop make it a great companion for anyone.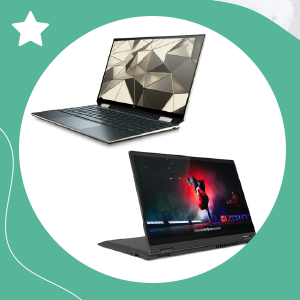 The HP Spectre also looks extremely incredible and feels premium. I can go on and on about how good this laptop was, but it's definitely a see for yourself type of laptop.
Budget Alternative: Lenovo IdeaPad Flex 5
If you don't mind a bit heftier laptop with the same versatility and power as the HP Spectre x360 another great option is the Lenovo IdeaPad Flex 5 series. It has either up to a Ryzen 7 4000 processor or an 11th Gen Intel Core i7 processor and blazing fast SSD storage. Lenovo also included a stylus within the package which is great for artists. All this at a reasonable price.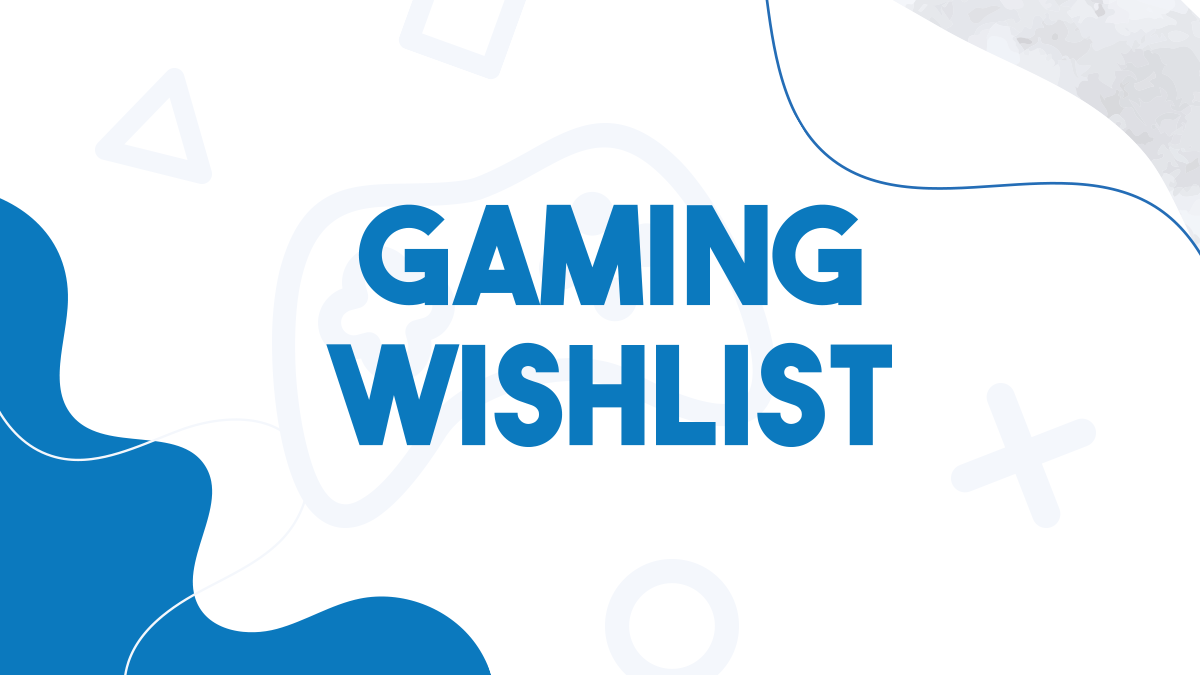 Words by Ren Alcantara
With all the new-found time we've had of late, there has never been a better opportunity to catch up on some of our gaming pursuits. As the year comes to a close, we all deserve a little something as a reward for making it this far. We've got a few ideas for you here, depending on what you need and how much you want to treat yourself!
A Gaming Chair
It's a scientific fact (not really) that gamers spend a third of their lives gaming. As the average person spends that much of their existence sleeping on their mattress and should therefore invest in a good one, life is too short for a gamer to be having their butt parked for hours in a bad seat. Fortunately, there are more options than ever for chairs, and you can spend as little as PHP 10,000 on one that will be worlds better than the molded plastic chair you're sitting on now.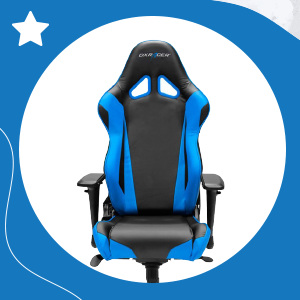 You're going to want to look for a model with lower back support, so you can at least make an attempt at keeping your posture in check even after long gaming sessions. If you are the intense kind of gamer and need the extra air flow to keep from sweating out all the Red Bull and Mountain Dew, mesh is a great option, though in our experience, it's really hard to beat the comfort of full, fabric-covered padding. We're not fans of pleather for these kinds of seats, as that tends to stick, making for a rather uncomfortable dismount when the time for a bio break inevitably comes.
If you're looking to keep cost down, you can even opt for models without wheels, which actually work just fine, though can be a little hard on your floor. Don't skimp on hydraulic lifters though. You really want a bit of adjustability to get the perfect height to keep shoulder strain, upper back, and neck pain at bay. Trust us when we say you won't regret this decision.
Wireless Peripherals
"Hardcore" gaming, by its mimicking actual combat, is a pretty intense experience. As such, the "high speed, low drag" philosophy also applies in the gear you use. The technology to make even the most latency-sensitive peripherals wirelessly perform as well as their wired counterparts has existed for years now, so there's much less of a compelling reason to stick to wires.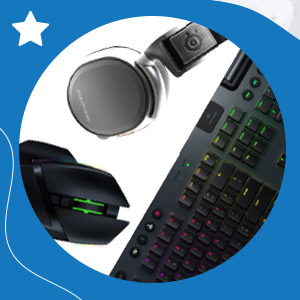 To start with, consider a wireless gaming mouse. All the big brands have gaming-grade wireless solutions for their mice which, in-game, perform with the same instant response time even FPS users need. I've used various ones myself over the years, and the convenience of not having a wire snaking, snagging, and dangling all over the place just can't be expressed in words. Even the lightest tangle-resistant braided cable snags sometimes, and it can be a real pain when it happens. Switch to a wireless mouse with a high-speed connection (not Bluetooth yet, sorry), and we swear, you'll never look back.
Next is a wireless headset. Wires for a headset can be anything from moderately inconvenient to absolutely infuriating, and nothing can compare with the bliss of being able to head to the fridge for a drink while still staying on comms and hearing the action. It's a simple joy, but it makes you feel like you're living in the future (which you totally are). Again, you have your pick of brands, styles, and extra features, everyone is sure to find something that fits the bill. As an additional bonus, wireless headsets will also help you with your day job, making the endless online meetings just a little less painful.
Again, you're going to want a wireless headset that has its own USB dongle, as Windows doesn't usually play nice with stereo Bluetooth output at the same time as mono input, and the dedicated wireless connection will ensure you get the split-second relay times you need for gaming purposes. It doesn't seem like that big of a deal, but try it, and thank us later.
You could also get a wireless keyboard, though the reasons for that are a little less compelling, as it tends not to move very much, and, well, that's about it. I do have a mechanical Bluetooth keyboard, though when I use it for gaming, I plug it in. Still, it's worth considering if you want to be as wire-free as possible.
A Gaming Keypad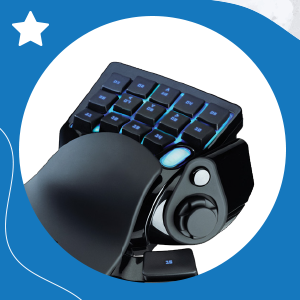 This is a bit of a niche pick, but hear me out. Because we're spending so much time gaming, there are some upgrades that are greata, but you may not have considered in the past. Take the gaming keypad. It's sole purpose is to be the left-hand control for your gaming sessions, so for right-handed users, that's usually movement and interaction keys. It might seem silly to get something like this when a regular keyboard will do the job as well, but there's more to it. You can get an ergonomic model that better fits your hand to prevent strain, have customizable controls that can be made to fit any title or genre of game you're playing, and all that for a reasonably small footprint.
If you do more than just gaming, for example, if you use drawing software, a DAW, or video editing software, it's a great tool that can be configured with all manner of shortcuts to help make tasks a bit faster. I use a DAW a lot to edit our podcast, and the ability to place common commands right at my fingertips. You can find a lot of these from big brands such as Razer (I love my Orbweaver, and have swapped out the switches to better suit my needs), as well as smaller brands for less money.
Magnetic Cables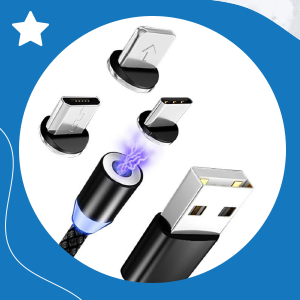 This is a cheap QOL upgrade that really has a huge impact on how you do things is a magnetic cable set. If, like me, you have several devices that have different styles of USB plugs, but connect to the same PC, you also likely have two or three cables hanging around your table. If, like me, you are a little obsessive about loose cables (see previous entry regarding wireless peripherals), then this is a thing you absolutely need.
With magnetic charging cables, you can keep the different heads plugged into the different devices, and just keep one cable to share among them. For example, at any given time, I have a wireless mechanical keyboard (USB-C), smart watch charging base and wireless headset (both micro USB), and an iPad Pro (lightning) as my second display. Rather than having one of each cable, I just snap the magnetic lead into whatever device needs it. Since all of them have internal batteries, I just swap things around and charge while other devices run on their internal batteries. Just make sure you get cables that transmit data as well as power, so you don't lose any functionality.
Bluetooth USB Dongle for the Switch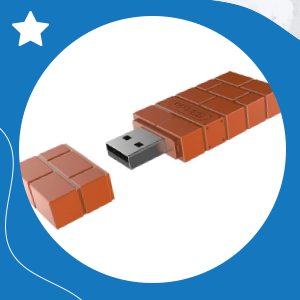 We love our Nintendo switch, and have recently done a lot of gaming on it (we're looking at you, Hades). There is, however, the small matter of controller drift on the joycons. We've tried everything short of replacing them, which we're not really willing to do because we're not made of money. A workaround is, fortunately, quite simple. A purpose-built USB Bluetooth dongle for the switch costs under PHP 700 online. This now allows us to use our PS4 controller for the Switch, ridding us of the drift issue, and giving us a better, more ergonomic way to play Hades games on the Switch. There are of course the caveats that the only thing we're sure will work is a PS4 controller, and the Switch will have to be docked for it to work, but those make for a small price to pay for the convenience of being able to enjoy this awesome little console with better controllers than it came with.
We hope this little list has given you a few ideas as to what you might want to get yourself just as the sales start to hit this year. We all deserve a little treat, so why not make it something useful?
Also published in GADGETS MAGAZINE November 2020 Issue