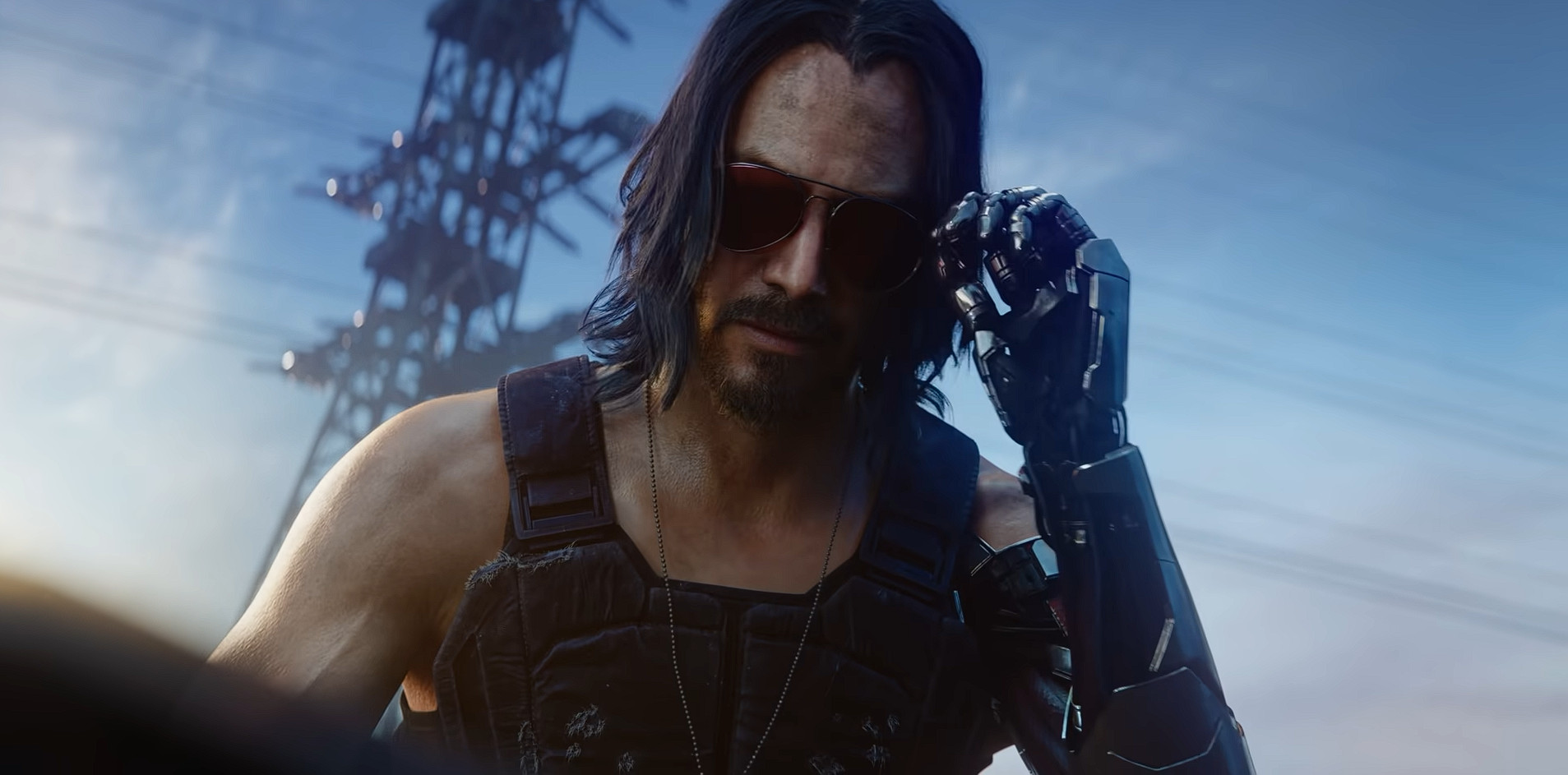 Cyberpunk 2077 is, without a single doubt, this year's most anticipated title. It's developer CD Projekt Red's follow-up to the Witcher franchise, which has had more trailers and reveals than most AAA games out there, and has Keanu-freaking-Reeves in it. It's almost like this game's marketing campaign has marketing campaigns at this point, and next week we're getting treated to another peek inside of Night City. Episode five the Cyberpunk 2077 Night City Wire is going live next week, and instead of focusing on the vehicles of the world, viewers will learn more about its music and the mysterious rocker boy Johnny Silverhand.
For the folks who don't know him yet, Johnny Silverhand is Keanu Reeves' character in Cyberpunk 2077. The slick-haired, leather jacket-rocking bad boy somehow ends up living in the head of the game's protagonist, V. It's not clear what his goal is in the game, but from his line at the end of 2019's cinematic trailer for the game, "We have a city to burn," certainly doesn't mean bringing everyone puppies and kittens.
The life and tunes of Johnny Silverhand
In the world of Cyberpunk 2077, Silverhand and his music are pivotal to the game's story. Originally born as Robert John Under, Silverhand was a military veteran in the fictional 2000s, but came back from the Central American Conflict as a deserter and found refuge in Night City. He ended up changing his name to the one we know today and formed the band Samurai. After the band's fall from grace, Silverhand found himself fighting yet again, this time in the Fourth Corporate War. He led a fateful charge on Arasaka's headquarters in Night City, and legend says he died that night at the hands of Adam Smasher, a man turned killing machine. Somehow, Silverhand ends up in the mind of V, and it's safe to say Arasaka is still on his hit list.
Yo, choombas!

Get ready for episode 5 of #NightCityWire! We'll talk about our favourite rockerboy Johnny Silverhand, share a variety of Night City's tunes and a lot more. It's going to be a big one!

Save the date: Thursday, Nov 19th, 6PM CET

See you on https://t.co/cBU8yS6pfc! pic.twitter.com/1AW1wUBGVA

— Cyberpunk 2077 (@CyberpunkGame) November 13, 2020
As for the music of Cyberpunk 2077, much of is has been unexplored. CD Projekt Red has already revealed that parts of the score for the game will be completely original and span across genres, all while staying accurate to the game's dystopian, futuristic setting.
To tune in and learn more about the legendary rockerboy and his tunes in Cyberpunk 2077, catch the next Night City Wire as it airs on Thursday, November 19 at 6PM CET or noon ET. Pending yet another delay, Cyberpunk 2077 is due to launch on December 10. The game can be pre-ordered on the Epic Games Store or Steam.