When it comes to Gaming, whether casual or competitive, the equipment and gear we use can make or break the deal. A gaming monitor not only enhances your gameplay experience through great response time, but the overall visual quality is on the higher side too, making it a perfect choice especially if you like to play detail-oriented games.
But among dozens of available options, which ones are actually worth it, which ones are more compatible with your Playstation 4, which ones bring out the best in your game console, and you, the gamer?
Well, that's what I am here to help you with! Here are 5 best gaming monitors for PS4 that you must absolutely look into, owing to their quality, features and compatibility to the console. There are also a couple of things to know before you go ahead with the purchase towards the end. So make sure to read it through and with this, let's start our quest!
Top 5 Best Gaming Monitors
1.
ASUS 24-inch Full HD FreeSync Gaming Monitor
24 inch LCD monitor with 1080p resolution (just right for PS4) and 16:9 aspect ratio. It's perfect for playing games, whether they are strategy based or fast-paced action games owing to the refresh rate of 75 Hz and a response time of 1 ms along with low input lag. It has 2 HDMI ports which means you can easily connect the monitor to two devices simultaneously.
The monitor comes with an ergonomic stand which is fully adjustable, and you can change its tilt, height, swivel and pivot according to your needs and preferences. You can even customize the in-game visuals via the GamePlus hotkey and Game Visual Technology this monitor has to offer.
CHECK TODAY'S PRICE on AMAZON
Pros:
It comes with FreeSync.

It has EyeCare and Flicker-Free Technology that prevents eye fatigue during long screen hours.
Cons:
The built-in speakers have a lot of room to improve.

While great for gaming, you can't use it for reading or office/desk work.
CHECK TODAY'S PRICE on AMAZON
---
2.
AOC i2367Fh Frameless LED-Lit Monitor
23-inch display monitor with IPS panel, it has a 1080p resolution and 16:9 aspect ratio. It has a response time of 5 ms, which though on the higher side, does not affect the gameplay experience by a lot.
On the contrary, the standard 60 Hz refresh rate and a dynamic contrast ratio of 50,000,000:1 make it a decent gaming device and a great monitor for watching movies and playing detail-oriented games.
The monitor has 2 HDMI ports and offers VGA connectivity as well. The narrow border which gives it an almost borderless appearance looks quite well and blends in easily with the surroundings, enhancing the viewing experience.
CHECK TODAY'S PRICE on AMAZON
Pros:
It comes with a multipurpose, detachable stand.

It has an anti-glare coating with a non-reflective matte.
Cons:
It doesn't come with a remote.

The sound quality is on the less impressive side.
CHECK TODAY'S PRICE on AMAZON
---
3.
LG 24MP88HV-S Console Gaming Monitor
24-inch display LCD monitor with full HD resolution and IPS panel, which gives it good color accuracy and wider viewing angles. This monitor has 2 HDMI ports—one DVI port and 99% sRGB along with a color depth of 16.7 M colors.
The overall design is pleasing to the eye, with the thin bezel and ArcLine construction. This product has good on-screen control and is great for multitasking.
What makes this monitor great for gaming despite the response time being on the higher side is the availability of features like Black Stabilizer and Dynamic Action Sync. The reduced input lag and the detail-oriented visuals give something to look forward to if you like RPGs or strategy-based games.
CHECK TODAY'S PRICE on AMAZON
Pros:
It offers Reader Mode and Screen Split options.

It is a good value for money.
Cons:
It has no FreeSync support.

The built-in-speakers are of average quality.
CHECK TODAY'S PRICE on AMAZON
---
4.
Acer GN276HL bid 27-Inch 3D Gaming Display
A great gaming monitor given the refresh rate of 144 Hz and a response time of 1 ms. It is a 27 inch, full HD monitor with great connectivity options including HDMI, DVI and VGA ports. It uses a TN panel, and the contrast ratio is decent as well, which makes it perfect for not only playing games but for watching movies and other entertainment or work-related tasks too.
It has a sleek design which is aesthetically pleasing and comes with an X shaped monitor stand. The NVIDIA 3D Lightboost and the active shutter 3D technology is great for an immersive 3D experience right at home. The convenience and overall smooth experience give this monitor an actually visible edge over other similar products.
CHECK TODAY'S PRICE on AMAZON
Pros:
It provides amazing visual clarity and color accuracy.

The efficient design saves up on power and it is a good value for money product, especially in the long term.
Cons:
It lacks built-in-speakers.

The average pixel density can be better.
CHECK TODAY'S PRICE on AMAZON
---
5.
MSI Optix G27C4 FHD 1500R Curved Gaming Monitor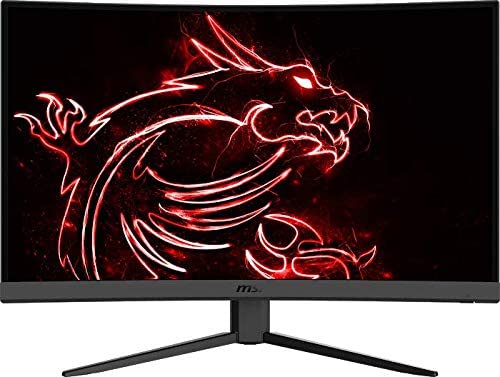 A 27 inch 1080 resolution full HD monitor with VA panel, it is a great choice when looking for gaming monitors based on its high refresh rate alone. The maximum refresh rate for this monitor is 165 Hz, and it comes with FreeSync, that provides a variable refresh rate and prevents the screen from tearing while playing high-intensity games. The response time is 1 ms which is fast.
It has low input lag and great contrast ratio with good reflection handling. Maybe it's just alright for using alongside PS4 from one perspective, but it's one of the better choices when it comes to dark room gaming. The curved display and wide color gamut are one of it's best features, which lead to a more realistic, immersive experience.
CHECK TODAY'S PRICE on AMAZON
Pros:
Frameless design provides an immersive gaming experience.

It comes with an anti-flicker technology and gives less blue light for eye protection.

It has a three-year warranty.
Cons:
It does not come with built-in-speakers

No DisplayPort cable is provided.

You may find some issues with brightness, but it can be tweaked.
CHECK TODAY'S PRICE on AMAZON
---
Things You Should Know as a Buyer
Now that you know a bit about which monitors might be the best, here are certain things you should be aware of as an informed buyer before going ahead with any kind of investment. So you can go for the best possible choice for yourself and your PS4.
1. Don't Let the Jargons Confuse You
While looking for a new monitor, or any electronic and gaming gear actually, you might come across a lot of words you don't exactly understand even if you have heard them before. What these jargons do, more often than not, is confuse you and make it harder for you to go for the right product, especially if you are someone who is just starting to pay attention to these things.
So the first thing to do is to be aware of different terms used to describe the features or qualities of a particular product. When it comes to monitors for gaming, some of the most common and important terms are:
Contrast Ratio
The ratio between the brightness of a screen when it is displaying pure black vs pure white. With High Contrast Ratio Screens, black will actually look perfect black rather than dark gray, and so these screens are perfect for gaming especially when your game has a lot of dark tones, as everything is still clear and the visuals sharper.
High Contrast Ratio Screens make HDR look better too when the brightness levels are set on high. For the sake of putting things into perspective: an IPS display typically has 1000:1 contrast ratio while it is 3000:1 or higher for VA display.
FreeSync and G-Sync
FreeSync from AMD and G-Sync from NVIDIA, are both adaptive sync technologies that prevent screen tearing and lagging while gaming. Both require their respective manufacturer's Graphics Card to work, but while FreeSync doesn't require a special module to work, and thus the monitor price doesn't spike up, G-Sync requires to have a physical module inside the monitor, which can increase the final price of the monitor.
HDR
HDR stands for High Dynamic Range wherein Dynamic Range refers to the difference between the brightest and darkest areas in an image. High Dynamic Range makes it easier to see the darker areas on the screen and makes the visuals look sharper, more realistic and detailed.
Since PS4 is HDR-capable, going for a monitor with features like HDR10 is the best option, since it enhances your gameplay, especially if you are playing detail-oriented games with darker tones, and even if you use it to watch movies, the overall experience is much better owing to the wider color gamut that HDR allows.
IPS
In-Panel Switching is a type of LED display technology that provides better color accuracy and viewing angles as compared to other alternative display panels. But despite the better visuals, IPS does have some shortcomings like compromised response time and visible monitor backlight in the dark.
Refresh Rate
Refresh Rate refers to the number of times the screen updates per second. A higher refresh rate means a more fluid gaming experience. While most standard monitors have a refresh rate of 60 Hz, a good gaming monitor can have a refresh rate of anywhere between 100 to 240 Hz. Generally, a 144 Hz refresh rate is considered high and well suited for games.
Resolution
The number of pixels on the screen and the higher this number is, the better and clearer the game or image looks. Resolution is written as a horizontal x vertical number of pixels, for example, 1920 x 1080, which is the 1080p resolution most monitors use.
Response Time
How fast a pixel can turn from gray to white and then back to gray on the screen. Lower response time means fewer distractions while gaming, especially when it's a fast-paced game. Most monitors have a response time of 5 ms with IPS panels being a little slower and TN panels being the fastest.
TN Panel
Twisted Nematic panels are considered to be the fastest and are the cheapest among all different types of displays. They have the best response time generally, but the color accuracy and viewing angles are not as good as IPS panels.
VA Panel
Vertical Alignment panel that generally has the best contrast rate and lies somewhere in the middle between IPS and TN panels in regards to color accuracy and viewing angles.
2. How to Choose the Best Gaming Monitor?
Now that you know the different terms commonly used to describe the features of a monitor, it might become a bit easier for you to choose the one best suited to your needs. For this, the first thing you need to do is figure out what you plan to do with the monitor, what kind of applications and software you intend to run on it and whether you will be using it for other activities besides gaming.
If you are going to play fast-paced, competitive games more, a monitor with higher refresh rate and with FreeSync is the best option to go. While playing strategy-based or role-playing games is better on a monitor with higher resolution. When it comes to PS4, a monitor with 1080p resolution works perfectly and there is no need to go for a higher resolution monitor.
Everything else, like the color accuracy, viewing angles, and contrast ratio depends on your preferences. So keep in mind what you exactly need the monitor for and then go for the purchase.
Final Thoughts
And that's it for this list of best gaming monitors for PS4 and the accompanying tiny guide for making the correct decision. I hope this article helped you in dealing with any confusion you might be facing and eventually, in finding out that perfect gaming monitor for yourself. Happy gaming!