Schneider Go Green is now open for submissions for students until March 7, 2021
Applicants must come up with ideas related to any of the four business case challenges: Sustainability & Access to Energy, Buildings of the Future, Plants of the Future, Grids of the Future, or De[coding] the Future
Participants can get a chance to win a trip to any of the following cities: Boston, London, Paris, Shanghai, or New Delhi
Schneider Electric, the global leader in digital transformation of energy management and automation, acknowledges that energy is a basic human right and continually develops new technologies to enhance the lives of people around the world. The company recognizes the urgent need for bold ideas that can reshape a smarter and more sustainable future for everyone.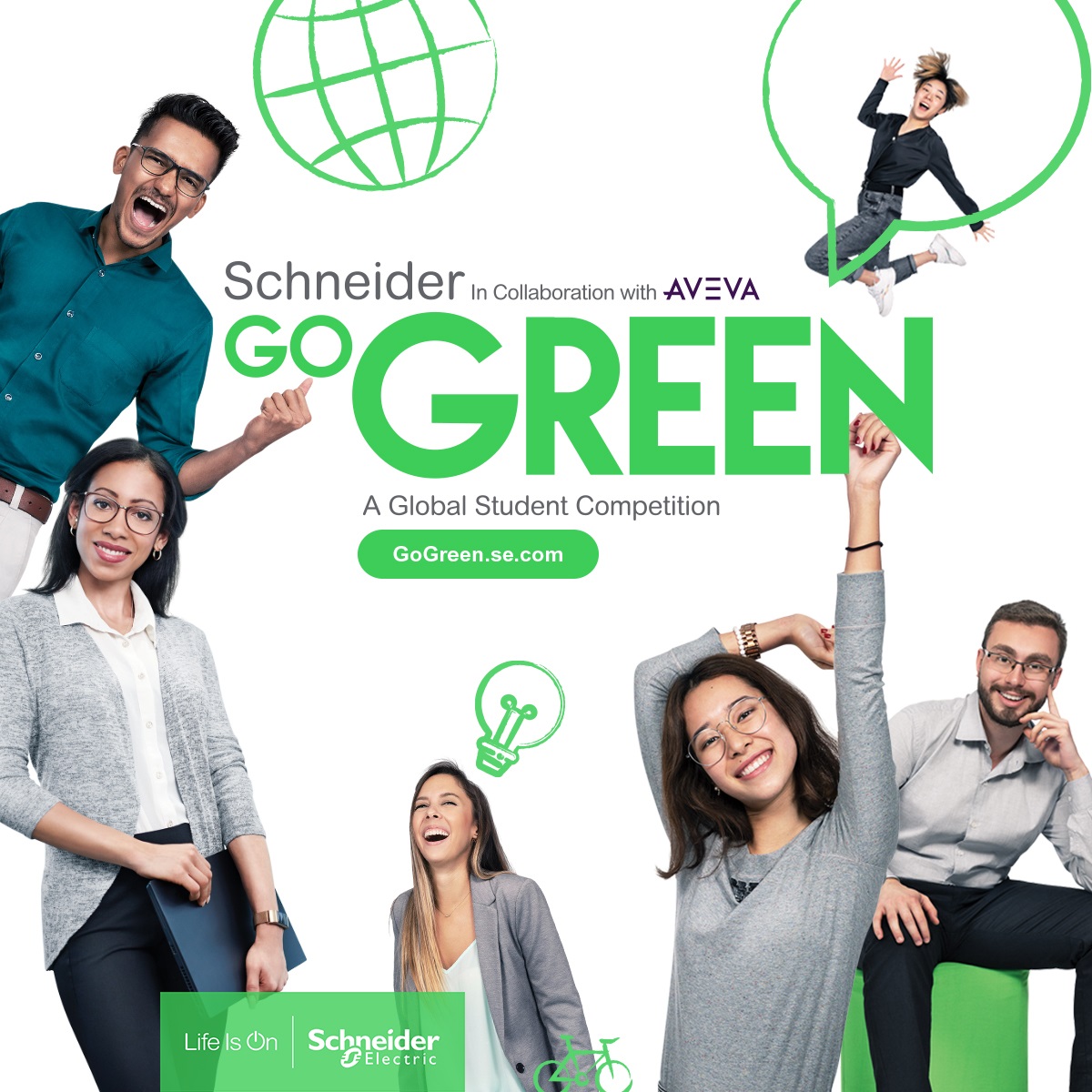 Schneider Go Green, Schneider Electric's global student competition, presents an opportunity for students around the world to showcase innovative and disruptive ideas that push the boundaries of what is possible for energy management. This edition of Schneider Go Green is presented in collaboration with AVEVA, the global leader in engineering and industrial software, driving digital transformation across the entire asset and operations life cycle of capital-intensive industries.
Qualified students have now until March 7, 2021 to submit their ideas related to one of five identified within energy management:
Access to Energy: Enabling universal access to energy in an environmentally sustainable manner;
Homes of the Future: Creating buildings that are smarter, more sustainable, and integrated with new technologies;
Plants of the Future: Applying IoT, AI, Machine Learning, and more to the industries of the present or future;
Grids of the Future: Imagining the future of energy management and distribution; and
De[coding] the Future: Envisioning future approaches to design, engineering, and construction of assets in the future.
Schneider Go Green is open to students who are at least on their sophomore year of their Bachelor's degrees pursuing their Master's degrees. Interested applicants are required to form a pair to join and must meet the following criteria:
Students registered in a program in Engineering, Business, Computer Science, Mathematics, Sciences, Marketing, or Innovation are eligible.
In line with Schneider Electric's Diversity & Inclusion philosophy, at least one team member must be female.
Teams must be proficient in English, as the Grand Finale pitch will be presented in English.
To enter, teams must register at https://gogreen.se.com/ and upload a 10-slide PowerPoint presentation stating their objectives and original ideas. Presentations will be judged based on:
Innovation: Does the proposal introduce a new, creative, innovative, unique, and/or compelling solution to the case?
Feasibility: Is the proposed idea both technically and economically feasible for competition? How does it fit with Schneider Electric's current mission?
The winning team will be announced by mid-March and will represent the Philippines in the Asia-Pacific finals. They will also receive mentorship from Schneider Electric experts to polish their idea. The Asia-Pacific finalists will then compete in the global finals on June 2021 The global champions will be awarded a trip to one of the following cities: Boston, London, Paris, Shanghai, or New Delhi, where they will visit Schneider Electric's offices, network with employees, and interact with high-level management.
To learn more about Schneider Go Green, check out https://gogreen.se.com/ or visit their Facebook page at https://www.facebook.com/SchneiderElectricPH/.