The ZenFone 7 Pro is Asus's new flagship phone. It keeps the interesting motorized flip-up camera cluster introduced in last year's ZenFone 6, a neat trick that means the rear cameras are also the front cameras, but the ZenFone 7 Pro also adds a telephoto module to the main and wide cameras. Qualcomm's top-end Snapdragon 865+ provides plenty of horsepower, paired with 8 GB of memory and 256 GB of fast UFS 3.1 storage plus a memory slot (the company's non-Pro ZenFone 7 uses the vanilla 865 chipset and has 128 GB of storage, but is otherwise the same).
The main camera has a 64 MP sensor that bins down to 16 MP output — larger and higher resolution than the ZenFone 6's main camera while maintaining the same pixel pitch. There is now a stabilized 8MP tele-module with an 80 mm-equivalent focal length lens to help with zoom performance. A new wide camera actually offers a slightly narrower field of view than the unit in the ZenFone 6, but now features dual-pixel phase detect autofocus, which makes it more flexible for closeup work than the fixed-focus wide module in the older phone.
Thus the ZenFone 7 Pro offers a range of enhancements over its predecessor, but is it enough to go toe-to-toe with the best phones on the market? Read our review to find out.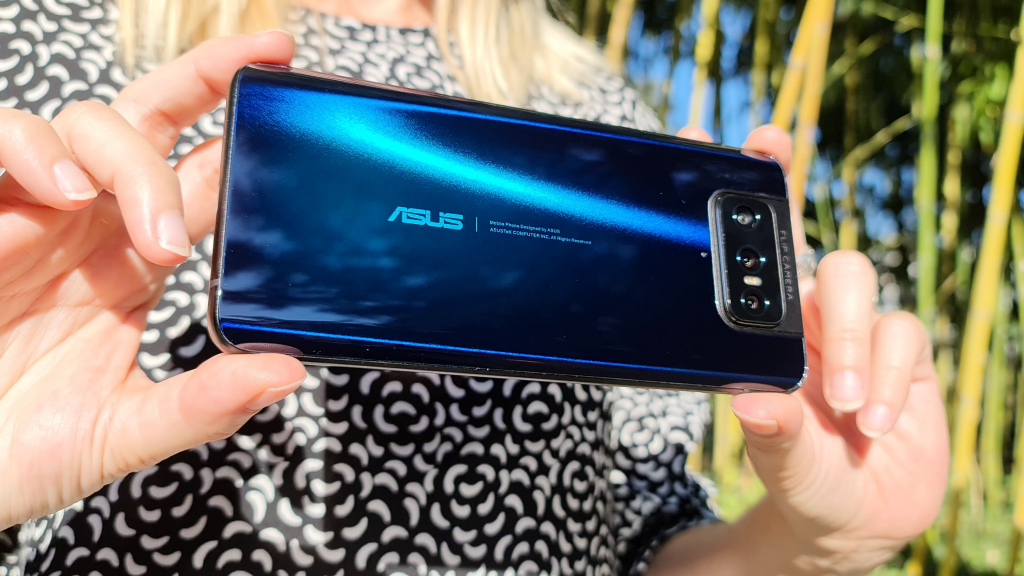 Taking pictures with the Asus ZenFone 7 Pro
Key camera specifications:
Primary: 64 MP 1/1.72-inch Quad-Bayer sensor, 26 mm-equivalent lens with f/1.8 aperture, PDAF and OIS
Telephoto: 8MP 80 mm-equivalent (3x optical) lens with f/2.4 aperture, PDAF and OIS
Ultra-wide: 12 MP 1/2.55-inch sensor, 16.6 mm-equivalent lens with f/2.2 aperture, dual pixel PDAF
Motorized rotation auto panorama mode
Dual LED flash
Video: 8K at 30 fps, 4K at 30/60/120 fps (4K at 30 fps tested)
Qualcomm Snapdragon 865+ chipset
About DXOMARK Camera tests: For scoring and analysis in our smartphone camera reviews, DXOMARK engineers capture and evaluate over 1600 test images and more than 2 hours of video both in controlled lab environments and in natural indoor and outdoor scenes, using the camera's default settings. This article is designed to highlight the most important results of our testing. For more information about the DXOMARK Camera test protocol, click here. More details on how we score smartphone cameras are available here.
Test summary
115
camera
The Asus ZenFone 7 Pro earned a DXOMARK camera score of 115, slotting in between the likes of the Samsung Galaxy S10 5G (one point above) and the OnePlus 7T Pro (one point below). Its score is only two points shy of last year's Apple 11 Pro Max, but is not quite on the same level as the best 2020 flagships.
The ZenFone 7 Pro does well enough with the photographic basics, with a few caveats. Exposure is accurate, although dynamic range could be wider, so high-contrast scenes can result in photos with blown highlights. Color rendition is generally pleasant, both indoors and out, though white balance missteps sometimes produce overly-cool shadows, and color accuracy drops in low light. In good light, the camera captures a lot of detail, though very fine texture is often lost.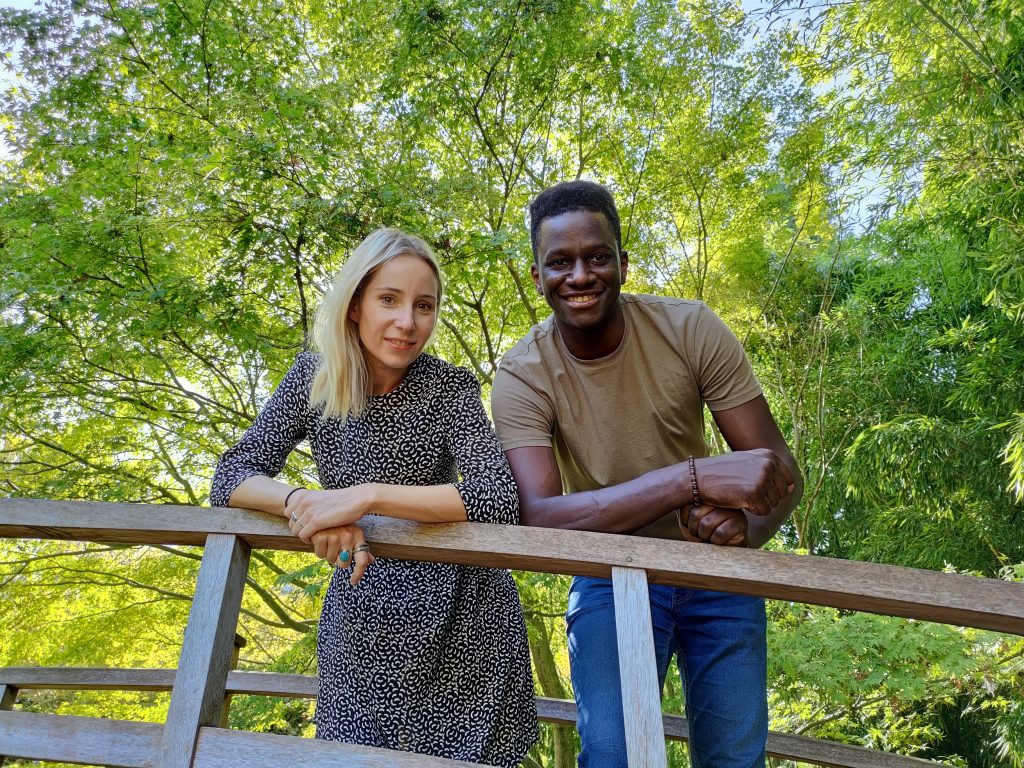 The Asus ZenFone 7 Pro generally produces nicely rendered colors in outdoor shots.
The addition of a tele-camera module to the ZenFone 7 Pro improves its zoom performance radically over its predecessor, but it still lags behind that of the best devices. Noise and loss of detail hold back zoom performance, as well as limited dynamic range. While the phone's reach on the long end has been improved, its wide camera goes the other way, delivering a field of view that's not as wide as on last year's ZenFone 6.
When the lights go down, the ZenFone 7 Pro performs adequately, but it's not as comfortable in the dark as some of the competition. It sometimes underexposes low-light scenes, and though detail is good for subjects close enough to light with the flash, heavy processing generally takes a toll on image quality in dim light.
The bokeh mode that simulates shallow depth of field leaves room for improvement, with acceptable but not impressive segmentation between the subject and background, along with some distracting artifacts.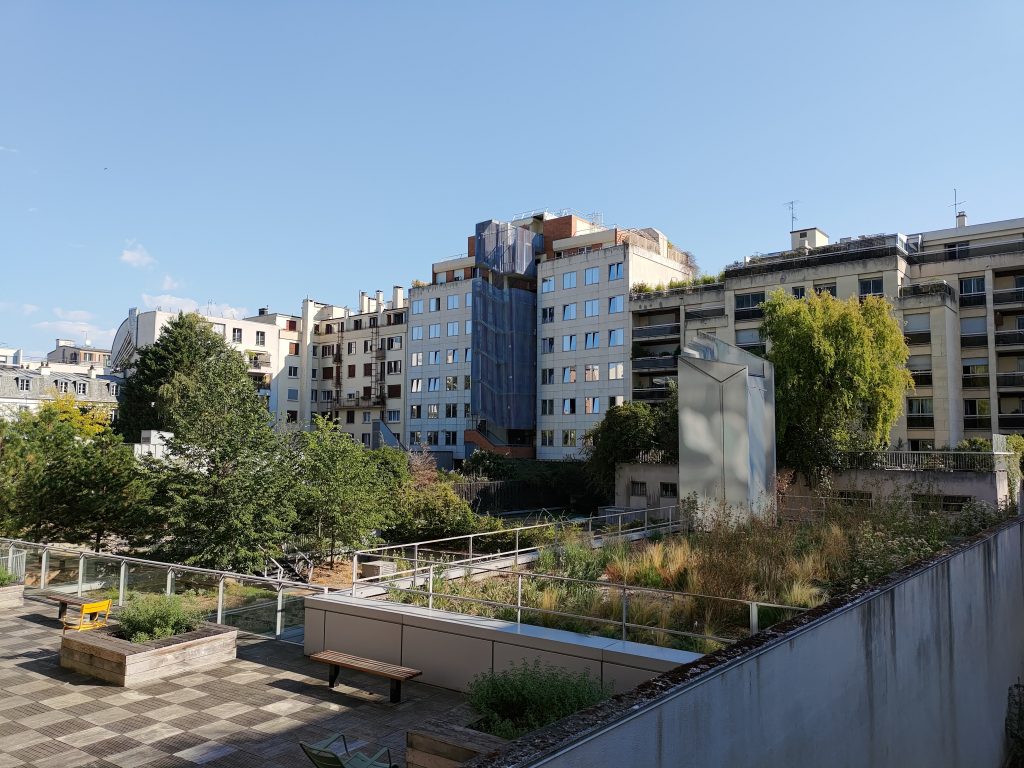 Exposures are accurate and detail is generally good.
The ZenFone 7 Pro earns a Video score of 100. It records 4K video at frame rates up to 120 fps, but we tested it at its 4K 30 fps sweet spot (8K is also on the menu). Videos look pretty good overall and stabilization is quite effective, but dynamic range lags behind the better offerings, so be ready for some clipped highlights and shadows. Autofocus is fast, with efficient subject tracking, though refocusing is sometimes an issue. Even in bright light, noise is higher than we'd like to see. Detail in quite high in good light but drops below many competitors in lower light.
Photo scores explained
The ZenFone 7 Pro earns a Photo score of 122. In this section, we take a closer look at how each sub-score was determined and compare image quality against key competitors in a similar price bracket.
Exposure and Contrast
The Asus ZenFone 7 Pro achieves a respectable exposure score of 95. Exposures are accurate all the way down to very low light levels, but dynamic range is not as wide as in the very best devices, so you can expect some blown highlights when photographing challenging high-contrast scenes. That being said, we call these types of scenes "challenging" for a reason, and as you can see in the examples below, some very good phones also struggle with them. All three devices manage a good foreground exposure, but a lot of detail in the bright background is lost despite the best efforts of the HDR algorithms.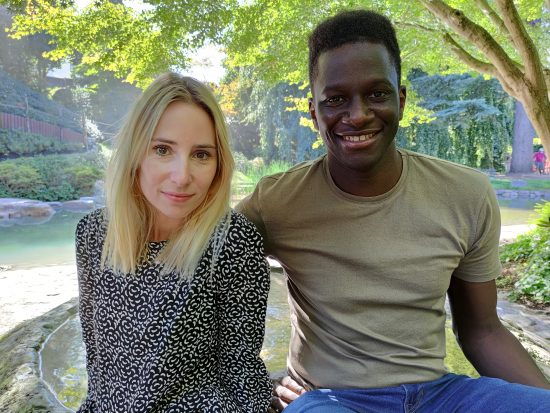 Asus ZenFone 7 Pro, good exposure, blown highlights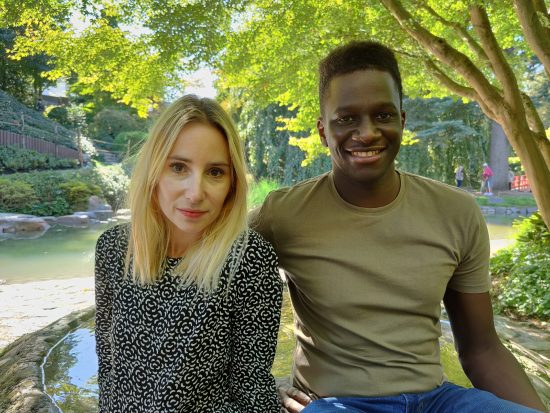 OnePlus 8 Pro, good exposure, blown highlights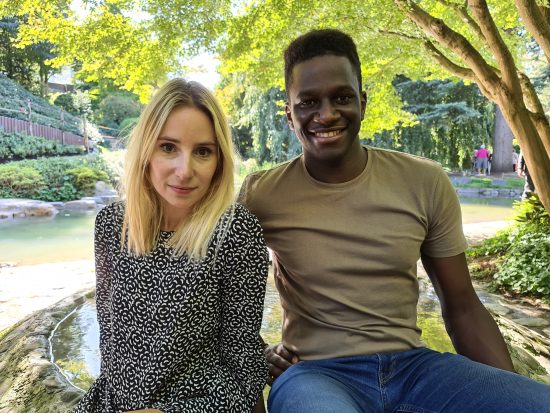 Samsung Galaxy S20 Ultra, good exposure, blown highlights
In this dynamic range torture test, all three phones expose correctly for the foreground while losing the color of the sky. However, the two comparison devices just manage to hold on to the fence at the top of the distant building, showing they handle a bit wider brightness range than the Asus.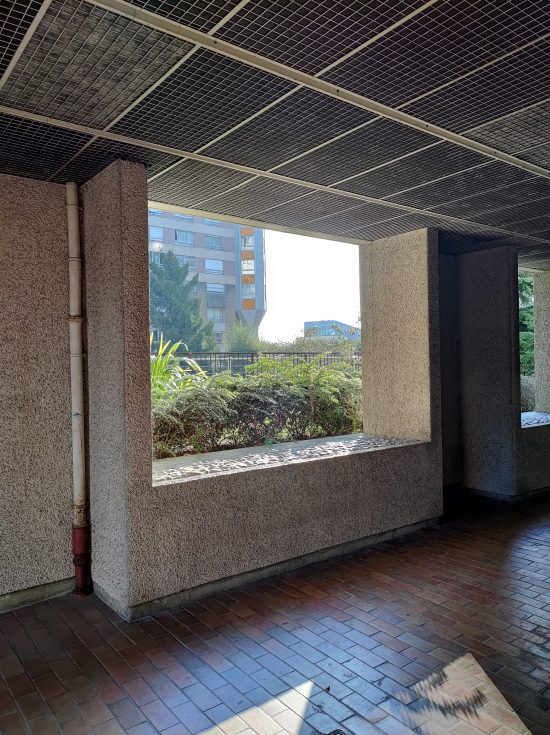 Asus ZenFone 7 Pro, good exposure, blown sky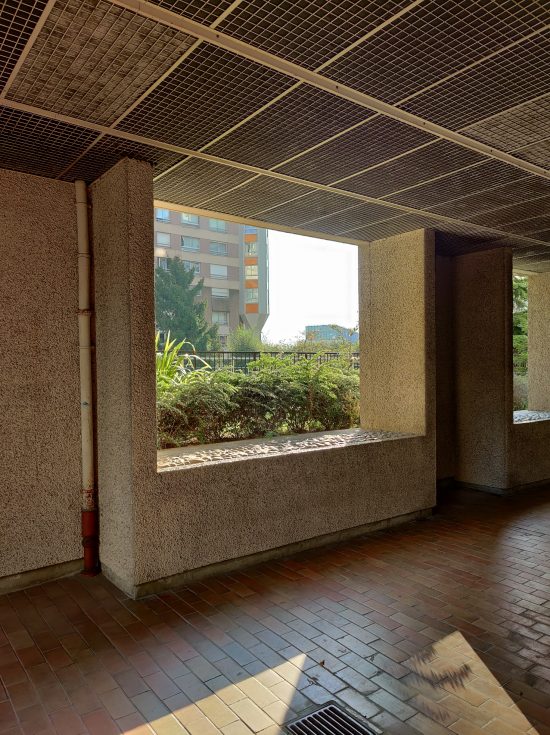 OnePlus 8 Pro, good exposure, blown sky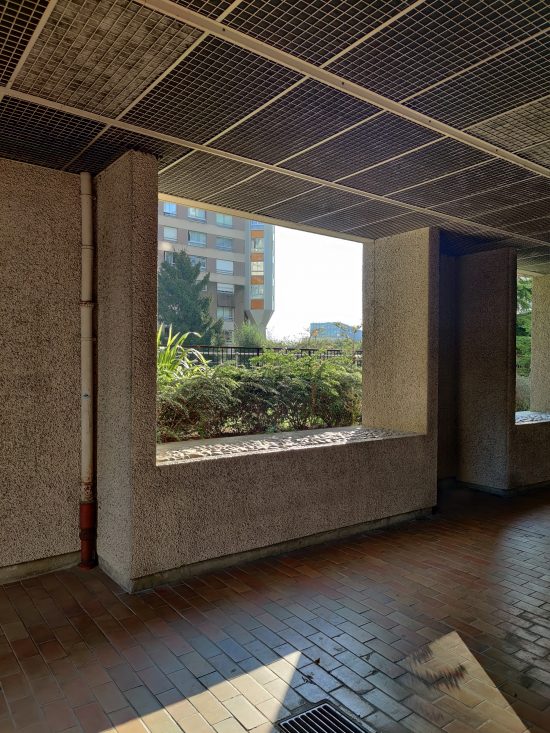 Oppo Find X2 Pro, good exposure, blown sky
Color
The ZenFone 7 Pro did quite well in our color tests, earning a solid score of 88. The Asus captures pleasant, accurate color outdoors and indoors, only really slipping at extremely low light levels, when saturation and accuracy drop. A bit too much blue can creep into the shadows in outdoor shots, but it's not disastrous. In the examples below, we see that the Asus and OnePlus render the scene very nicely, while the Samsung (which under most circumstances delivers very nice color) goes for a cooler white balance.
Asus ZenFone 7 Pro: accurate, pleasant color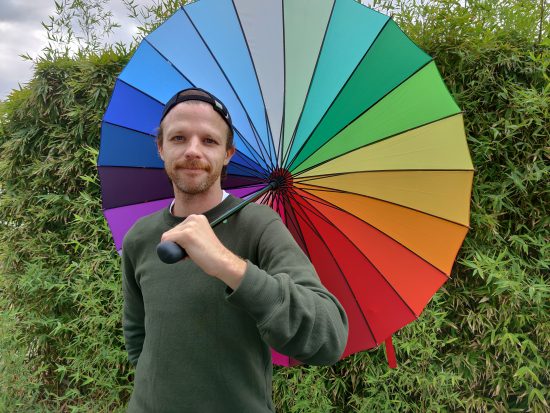 OnePlus 8 Pro: accurate, pleasant color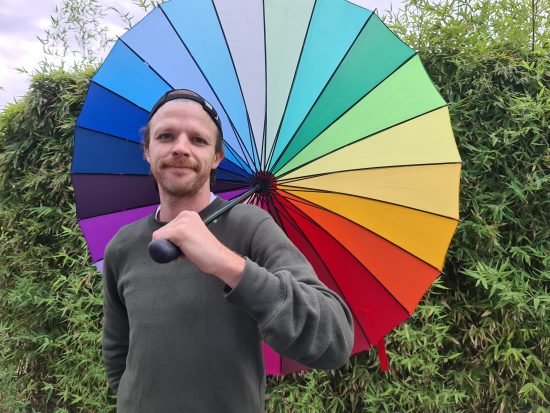 Samsung Galaxy S20 Ultra: slightly cool cast
The auto white balance system also works well in this indoor scene. The OnePlus put a slight green cast on the image, while the Samsung stays more faithful (and selects a brighter exposure — probably the right call, even though some incidental background detail is lost to overexposure).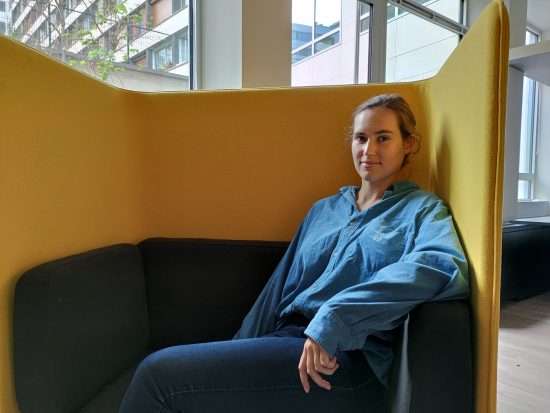 Asus ZenFone 7 Pro: accurate, pleasant color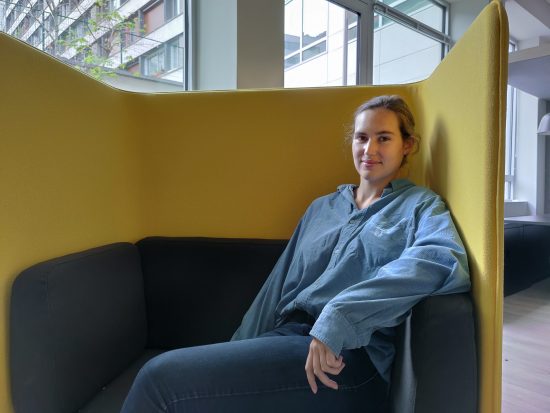 OnePlus 8 Pro: slight green cast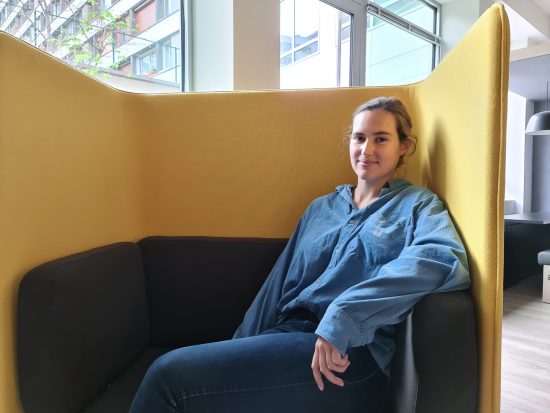 Samsung Galaxy S20 Ultra: accurate, pleasant color
Autofocus
The Asus ZenFone 7 Pro earned a perfect score in our autofocus testing, quickly and accurately locking focus under any lighting condition. This is becoming par for the course with the best phones, but some still slip up more than the Asus.
This graph shows the results of our autofocus lab test at 20 lux (quite dark). The ZenFone's points are clustered on and to the right of the moment the shutter button was pressed, showing almost no delay (thus giving an impression of instantaneous response). Some phones "preshoot" by pulling images recorded to the buffer before the button is actually pressed in an effort to offset reaction lag (we see this in the OnePlus 8 Pro results below), but the Asus does not do this.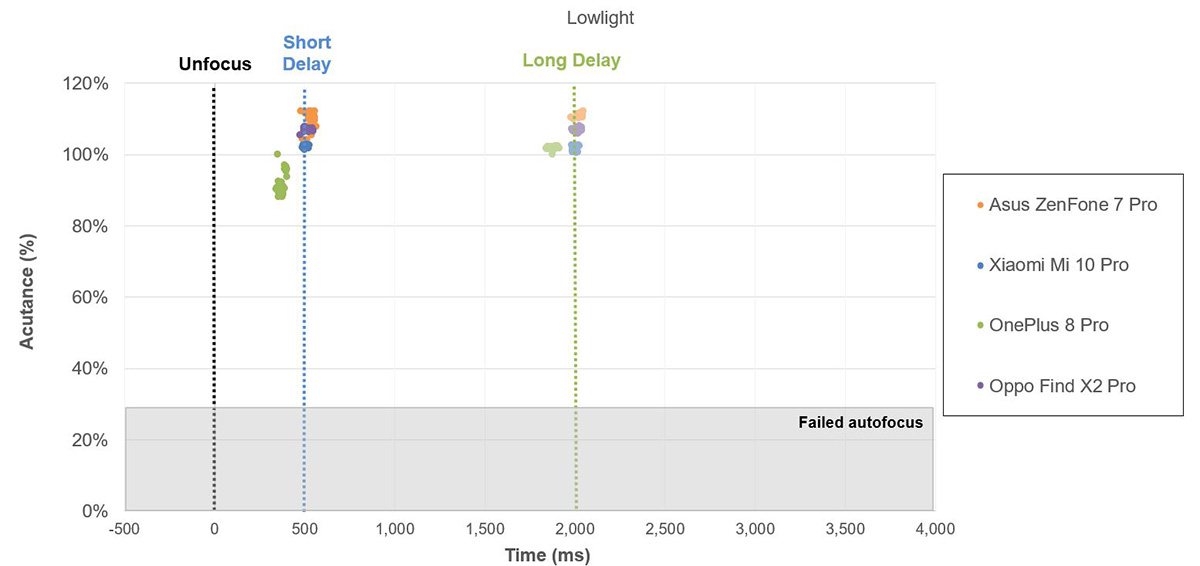 Asus ZenFone 7 Pro, low-light (20 lux) autofocus performance
Texture
Noise
The ZenFone 7 Pro captures a lot of detail in good light, earning a texture score of 79 — not as good as the best, but perfectly respectable. Noise is fairly well controlled but more visible than with some of the competition.
In the examples below, we see that all three phones capture similar levels of detail, though the Asus has slightly overexposed for the scene. The ZenFone 7 Pro occasionally renders detail unnaturally (probably a sharpening issue), but things look good in this photo.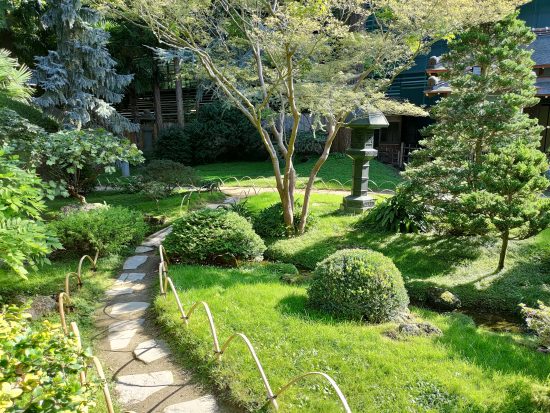 Asus ZenFone 7 Pro, outdoor detail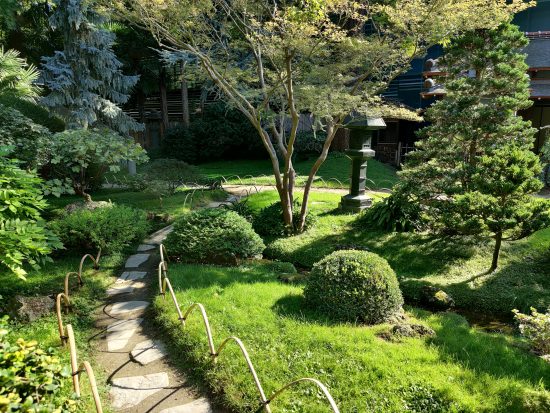 OnePlus 8 Pro, outdoor detail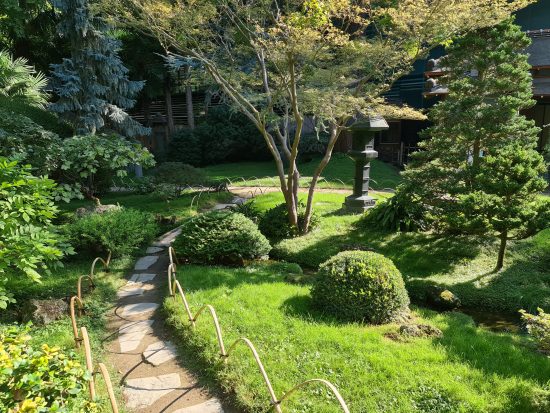 Samsung Galaxy S20 Ultra, outdoor detail
In lower light, the Asus is a bit less successful at juggling noise and detail. In the indoor example below, the Asus shows some noise on the model's face that the other phones avoid. Larger structured detail is reasonably well rendered, but the Asus sometimes does away entirely with fine, low-contrast detail, and we see that here in the model's corduroy shirt. In the ZenFone photo, portions of the shirt appear smooth. The Samsung maintains a subtle but consistent suggestion of the shirt's texture, while the Xiaomi, the best performer in this regard that we've seen to date, is in a different league altogether.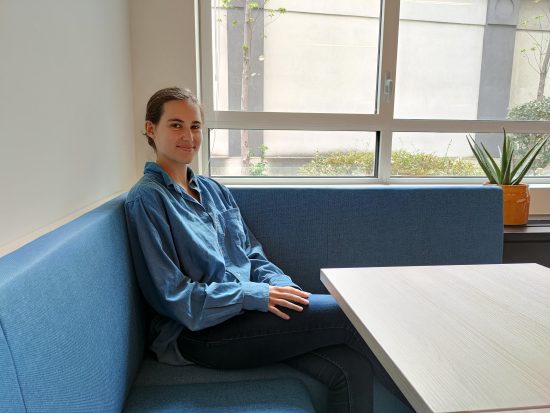 Asus ZenFone 7 Pro, indoor detail and noise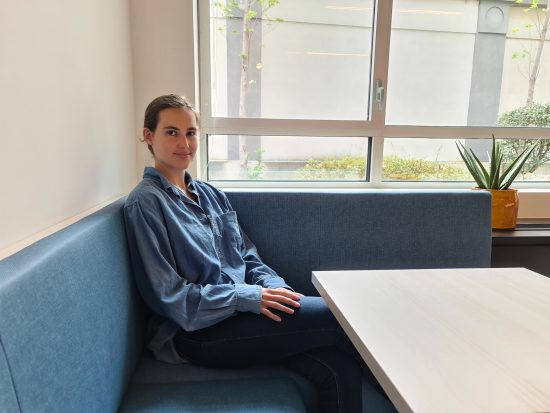 Samsung Galaxy S20 Ultra, indoor detail and noise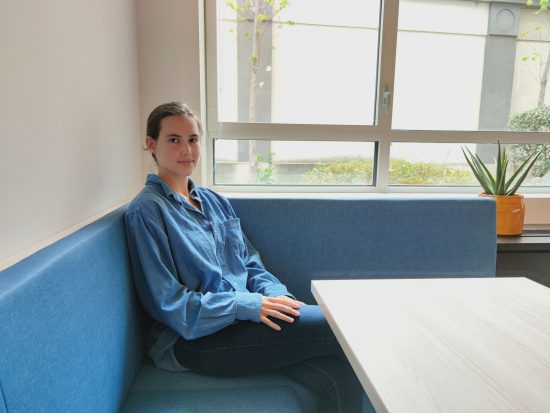 Xiaomi Mi 10 Pro, indoor detail and noise
The chart below confirms that noise levels in the ZenFone 7 Pro's images are quite low in strong light but rise in lower light. The real-world examples above suggest that Asus may be smoothing away some low-contrast detail to achieve these noise levels.

Asus ZenFone 7 Pro, visual noise comparison
Artifacts
The ZenFone 7 Pro produces more artifacts than we like to see in the output of a high-end phone. The steepest penalty against its score was due to softness towards the edges of the frame, but our testers also noticed heavy ringing caused by oversharpening along high-contrast borders, along with distortion, cyan shift, and lens flare.
Here we see obvious corner softness: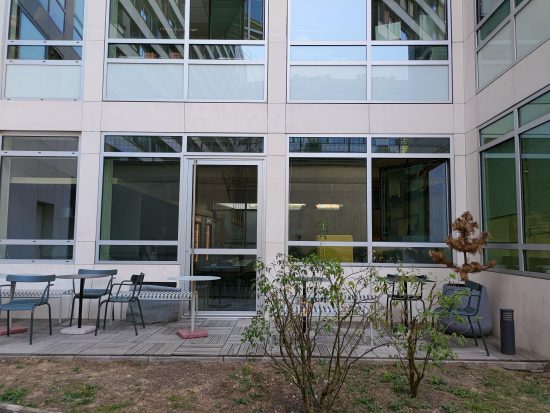 Asus ZenFone 7 Pro, artifacts
And here we see ghosting as the leaves flutter in the breeze, and ringing along the high-contrast boundaries of branches and sky: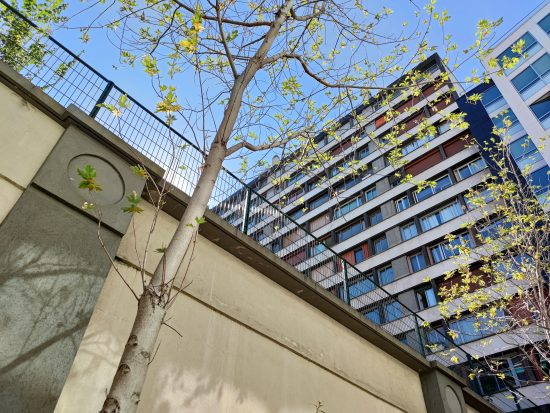 Asus ZenFone 7 Pro, artifacts
Zoom
The biggest imaging change to the ZenFone 7 Pro over its predecessor is the addition of a dedicated telephoto module, and this helps to more than double its zoom score from 38 to 77. But zoom development is one of the hottest, most competitive areas of innovation in phone imaging technology, and even with the upgrade, the Asus is left in the dust by the best on the market, with our top score to date a full 40 points higher.
Its tele-camera lets the ZenFone hold its own at medium zoom range, delivering fairly good detail, albeit with restricted dynamic range and more noise than is ideal. In the examples below, it captures a bit more detail than the OnePlus, and a bit less than the Samsung (which has the advantages of a longer focal length for its tele-camera and higher resolution output). The Asus also holds the highlights much better than the Samsung, though not as well as the OnePlus, which opts for a higher-contrast, more saturated rendering that still keeps the shadows sufficiently bright.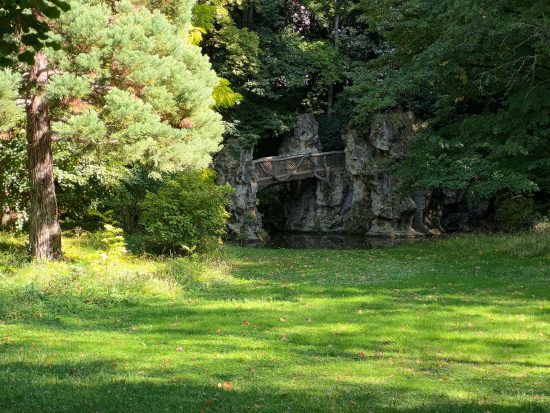 Asus ZenFone 7 Pro, medium zoom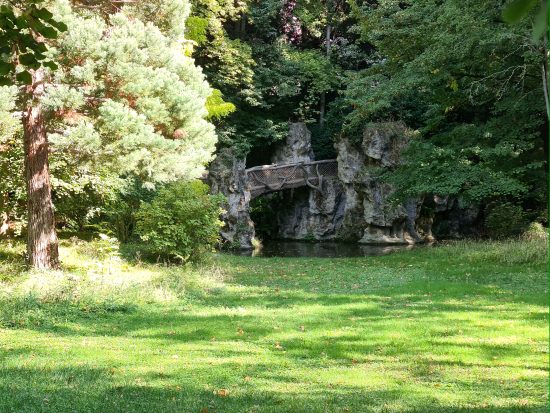 Samsung Galaxy S20 Ultra, medium zoom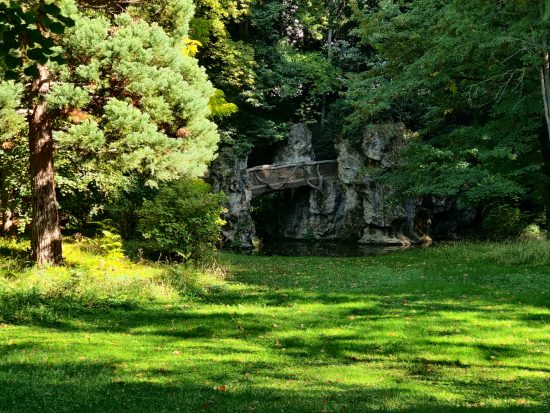 OnePlus 8 Pro, medium zoom
At longer zoom ranges, the limits of the ZenFone's 3X tele module become more apparent, as detail levels and contrast drop. In the examples below, the Asus image looks a lot like that of the OnePlus, except that the OnePlus retains the highlights in the pine tree while the ZenFone doesn't. The Xiaomi captures far more detail than the other two, but like the Asus, it fails to keep the sunlit tree from blowing out.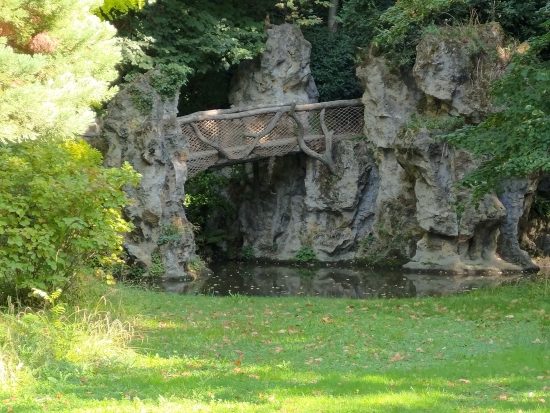 Asus ZenFone 7 Pro, long zoom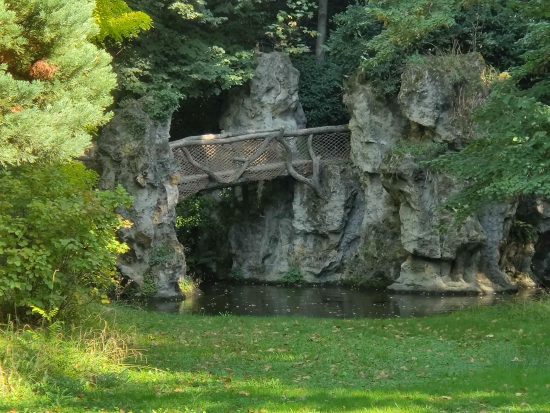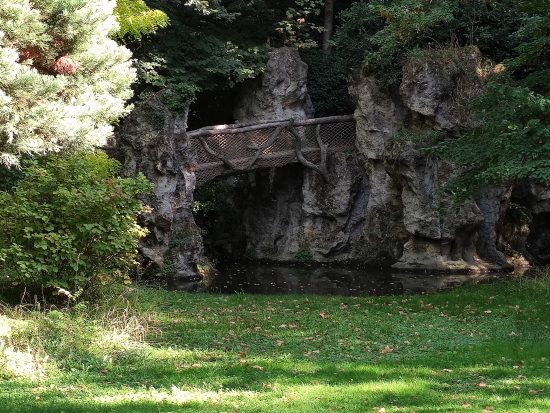 Xiaomi Mi 10 Pro, long zoom
Bokeh
The ZenFone 7 Pro's bokeh mode for simulating shallow depth of field in portraiture is not the phone's strong suit. The small depth estimation errors that are common among the competition are on display here, especially (as usual) around very fine detail like hair, which is difficult to distinguish from the background, but the Asus sometimes flubs easier foreground subjects as well.
Perhaps most critically, the ZenFone 7 Pro often creates texture artifacts on the subject's skin that produce an unnatural look. Extra noise, and a mix of excessive blurring and sharpening, can create strange effects. In the examples below, we see this in the plastic look of the model's skin and the eyes that look over-processed. The OnePlus sample, by contrast, suffers from a lack of detail in the face but looks much better overall than the ZenFone's crunchy rendering. The Samsung, our high scorer for bokeh mode at the time of this writing, showcases the state of the art with very natural-looking skin and good subject separation with a strong blur effect.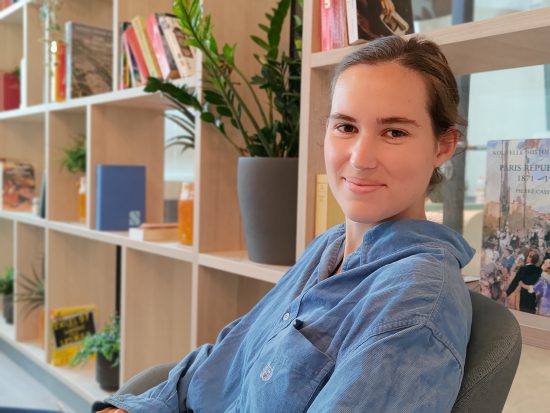 Asus ZenFone 7 Pro, bokeh mode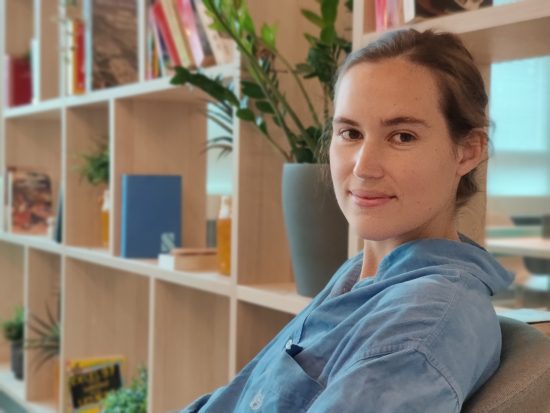 OnePlus 8 Pro, bokeh mode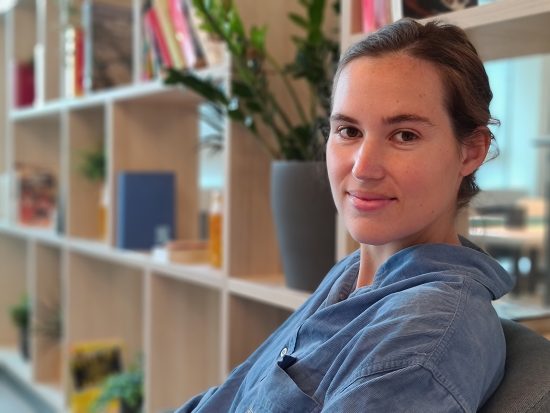 Samsung Galaxy S20 Ultra, bokeh mode
The Asus uses a wider field of view than most phones when capturing bokeh mode portraits, which can be less flattering; the difference is visible below. On the plus side, more distant backgrounds are nicely blurred, though many of the problems previously noted are also visible in the sample below. The Xiaomi produces a more natural-looking portrait than the Asus or the OnePlus, though it doesn't compare as well to the Samsung's output above.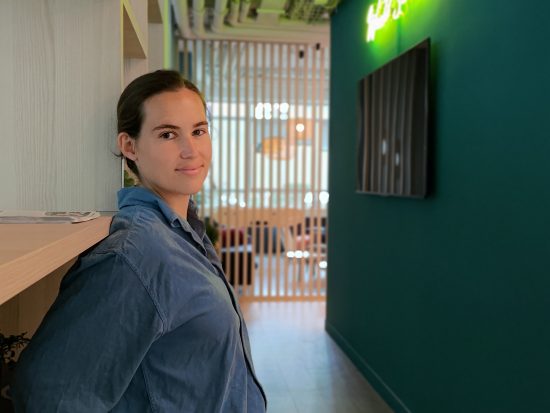 Asus ZenFone 7 Pro, bokeh mode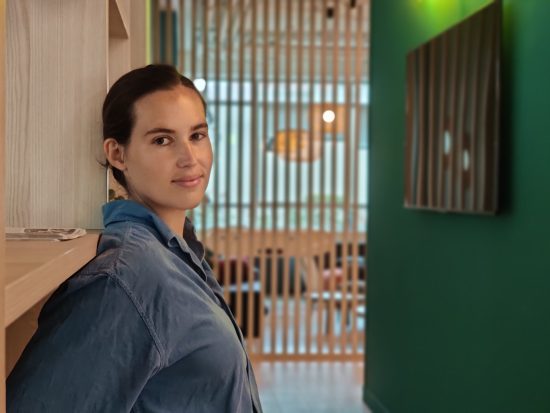 OnePlus 8 Pro, bokeh mode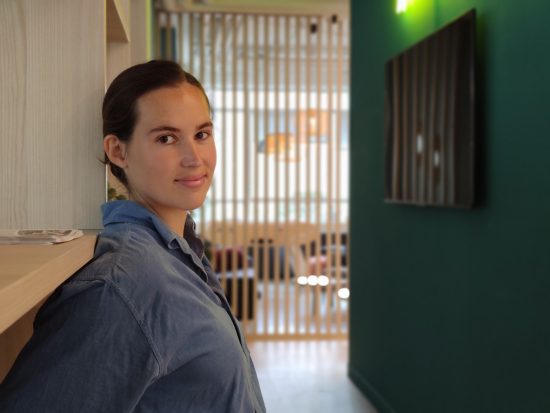 Xiaomi Mi 10 Pro, bokeh mode
Wide
The ZenFone 7 Pro's wide camera produces pleasant enough photos, with accurate exposure and nice colors overall. As with the main camera, dynamic range is a little narrower than ideal, and shadows sometimes have a cold cast. Noise is often visible but not too intrusive.
The main problem with this wide camera is that it's just not that wide. It defaults to the field of view of a 16.8 mm-equivalent lens, and you can pinch out to push it to 16.6 mm-equivalent, presumably achieved by reducing distortion correction. The ZenFone fits a bit less in the frame than the 14 mm-equivalent lenses that we see from Samsung, not to mention the 12 mm-equivalent ultra-wide module in the Xiaomi Mi 10 Ultra (though to be fair, the Xiaomi is in a different price category).
In the examples below, we see that the Samsung squeezes a bit more into the frame while offering greater dynamic range.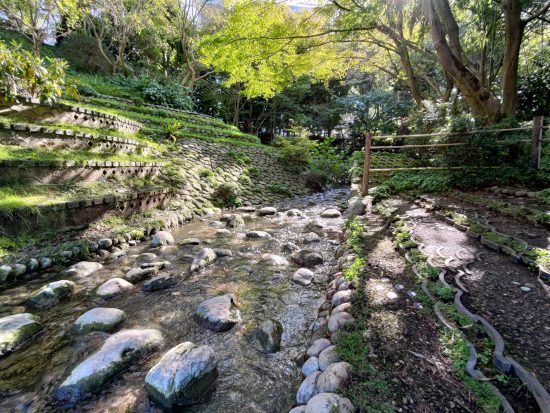 Asus ZenFone 7 Pro: reduced field of view, less dynamic range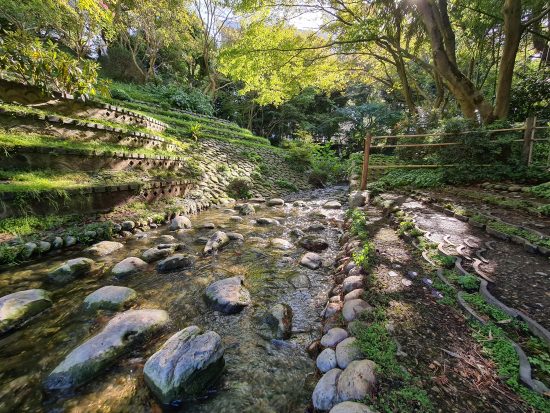 Samsung Galaxy S20 Pro: wider field of view, more dynamic range
Night
After dark, the ZenFone 7 Pro can't keep up with the best night shooters, but still produces acceptable photos under low-light conditions.
In flash-auto mode, the phone detects faces and fires the flash appropriately, producing nicely exposed night portraits that contain a lot of detail. The Asus captures some background light as well, but underexposes beyond flash range in very low light. Skin tones are acceptable, though the comparison devices in the example below show that more pleasing renditions are possible. The Asus retains more detail and has a better background exposure than the OnePlus, while the Oppo has nicer color.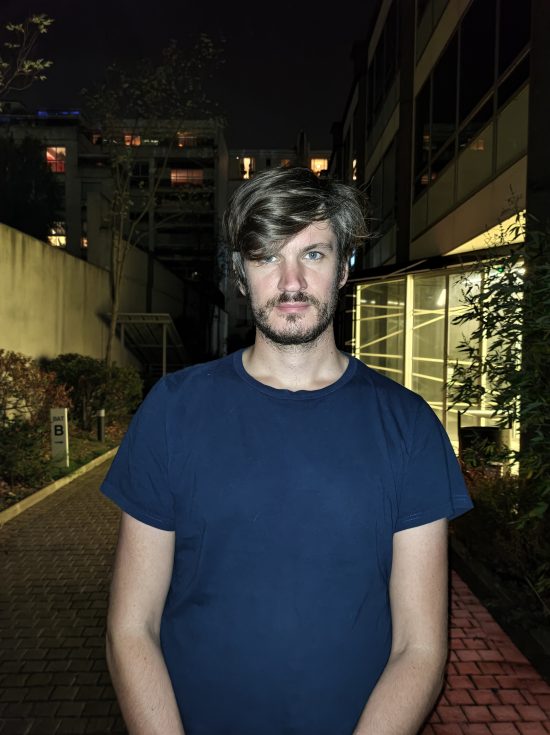 Asus ZenFone 7 Pro, flash-auto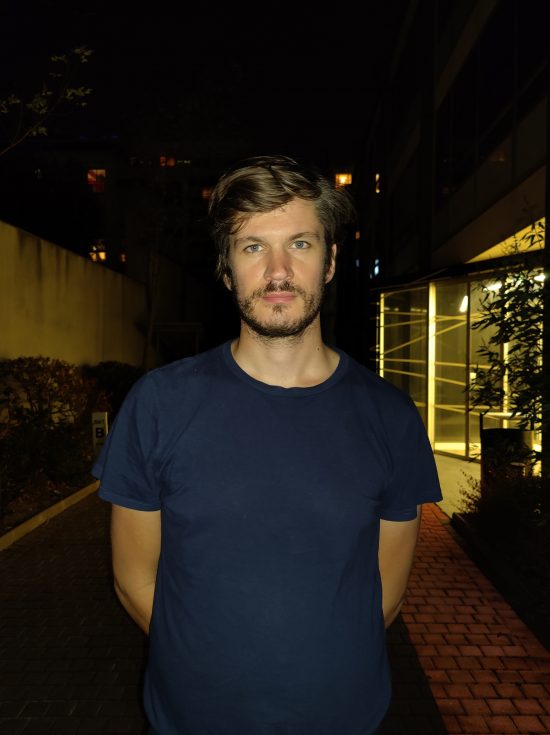 OnePlus 8 Pro, flash-auto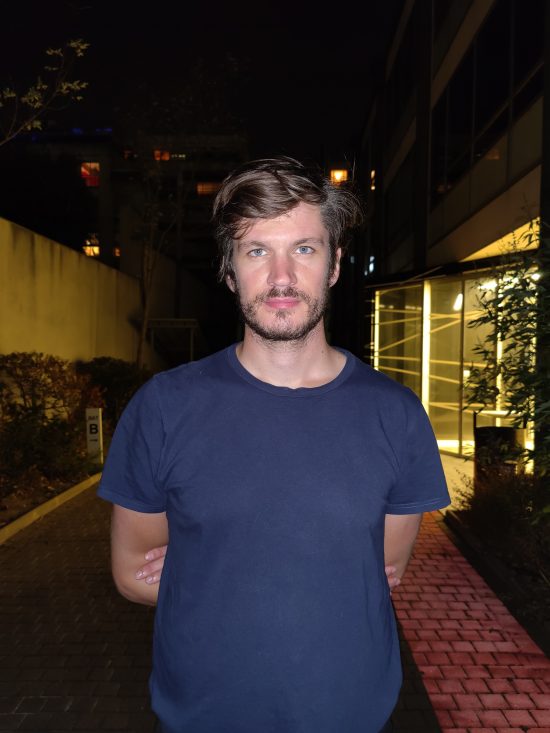 Oppo Find X2 Pro, flash-auto
The ZenFone 7 Pro usually exposes accurately when shooting at night with the flash turned off, and white balance is generally accurate. In the cityscape below, we see that detail levels could be better, there's some unnatural-looking processing, and colors are a bit desaturated. The phone's HDR algorithms don't do very well with retaining highlight information. The OnePlus doesn't do much better, but the Oppo delivers a more pleasing image despite its slightly lower exposure.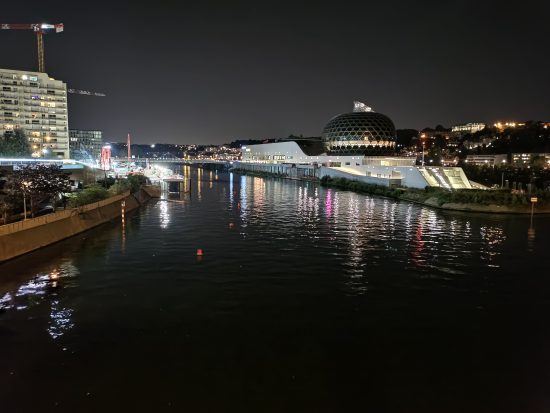 Asus ZenFone 7 Pro, flash off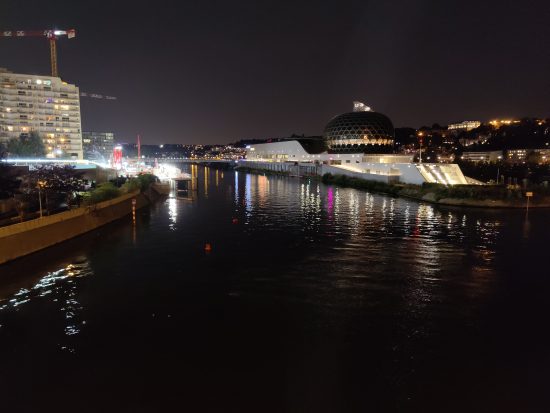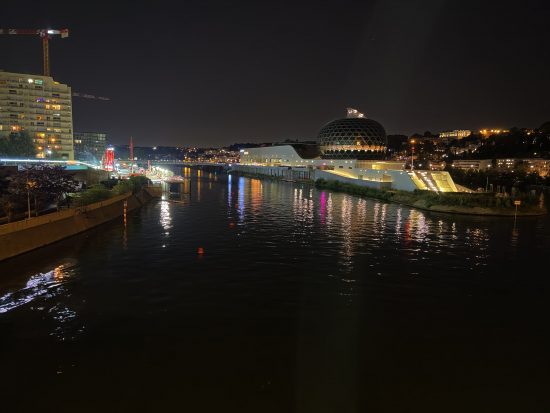 Oppo Find X2 Pro, flash off
At the lowest light levels, the ZenFone 7 Pro underexposes and has trouble maintaining accurate color. In these situations you can try the dedicated night mode, which captures a slightly brighter exposure than the default flash-off mode.
Video scores explained
A device's overall Video score is derived from its performance and results across a range of attributes in the same way as the Photo score. The Asus ZenFone 7 Pro's video scores are as follows: Exposure (80), Color (90), Autofocus (93), Texture (77), Noise (77), Artifacts (85), and Stabilization (93). In this section, we take a closer look at the device's strengths and weakness for video, with some comparisons against key competitors.
Video performance is acceptable but not inspiring, earning an overall Video score of 100. Our testers noticed a slight tendency towards underexposure, though the chart below shows accurate if lower exposure than the reference devices. Dynamic range is somewhat restricted compared to some of the more capable competition, and our testers noticed clipping in both highlights and shadows — all factors that contributed to a subpar exposure score.

Asus ZenFone 7 Pro, video target exposure comparison
Objective testing reveals some weakness in the Asus's video color rendition, but it's not too bad perceptually. The main problem flagged by our testers was tone compression, most noticeable when the greens of foliage sometimes turn gray. Cool shadows were also an issue, though white balance outdoors was accurate overall.

Asus ZenFone 7 Pro video color rendering
Detail levels are fairly high, except when the lights get low.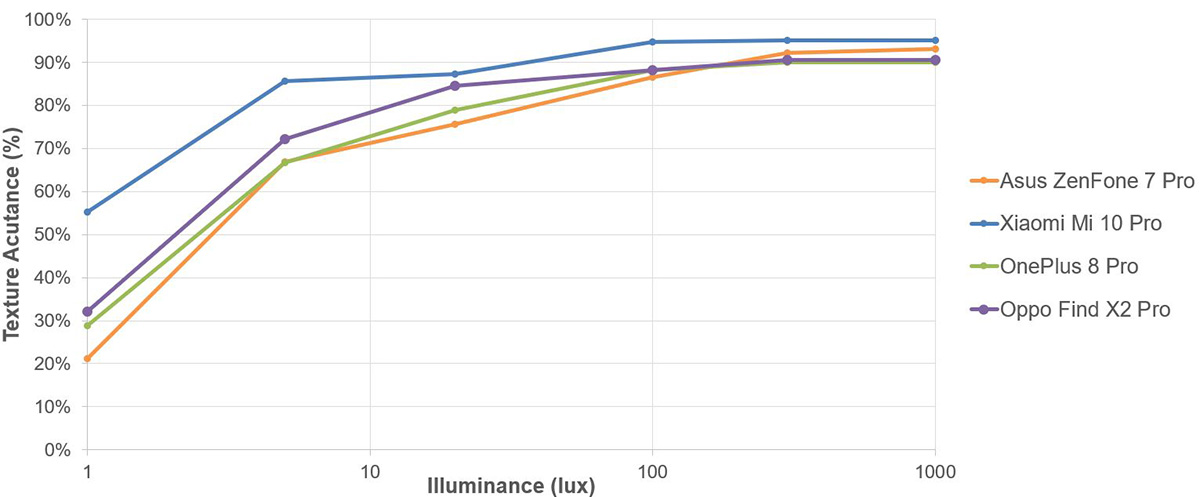 Asus ZenFone 7 Pro, video texture comparison
Measured noise is fairly low in bright light but increases as illumination drops. In perceptual scoring, our testers noticed noise even when shooting in bright outdoor conditions (where it was visible in the shadows) and indoors in more subdued light, where it was more pervasive.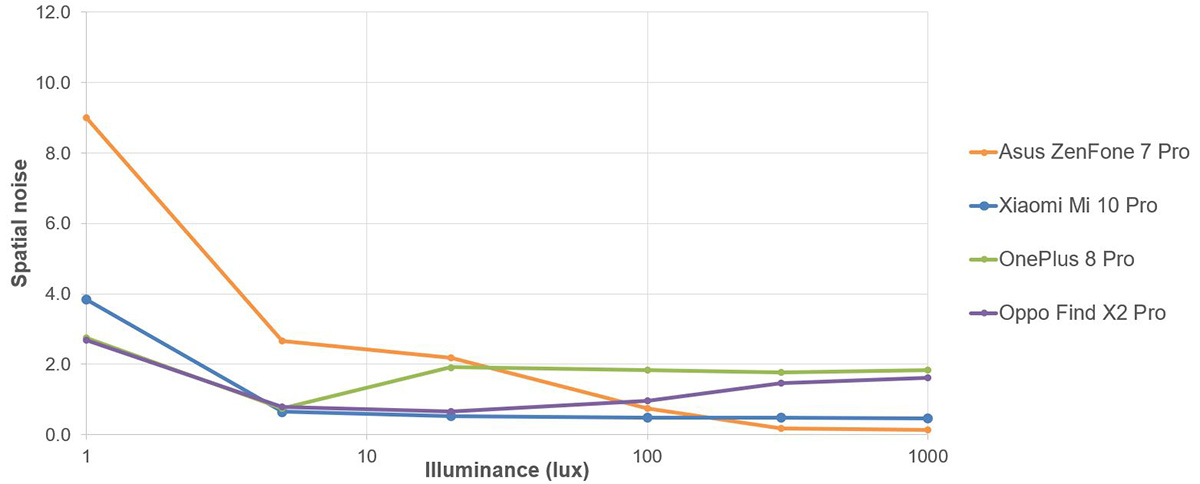 Asus ZenFone 7 Pro, video spatial noise comparison
Autofocus was fast and tracking was smooth in video mode under all lighting conditions. However, the ZenFone lost some points for problems with unnecessary refocusing. Stabilization was effective, with a good balance between keeping the image steady, avoiding frame shift, and maintaining consistent sharpness across frames.
Asus ZenFone 7 Pro, outdoor video
OnePlus 8 Pro, outdoor video
Xiaomi M10 Pro, outdoor video
Conclusion
The Asus ZenFone 7 Pro offers real benefits over its predecessor, but lands in our database closer to the better phones from last year than to this year's leading contenders. Overall image quality is satisfying and the ZenFone has no trouble producing good-looking photos under most conditions. But the competition at the top is fierce: missteps in the handling of high dynamic range scenes, significant artifacts, and a problematic bokeh mode drag the score down compared to the top performers. Zoom performance is much improved thanks to the new telephoto camera, but its image quality is not up to what we see from the best available today, especially at longer zoom ratios.
The ZenFone can certainly record a satisfying 4K clip, though as with stills, performance lags behind the best options on the market.
The ZenFone 7 Pro's standout quality is one that we don't really quantify in our score: its flipping camera cluster. Performance that looks middling on a rear camera can be cutting edge by front camera standards, so mobile photographers who prioritize selfies should be sure to read our front camera review of the ZenFone 7 Pro.
Photo
Pros
Accurate target exposure
Fast and accurate autofocus
Colors generally pleasant, indoors and outdoors
Fairly good detail
Flash portraits have accurate exposure and fair amount of detail
Cons
Slightly limited dynamic range
White balance often too blue outdoors, color inaccurate in low light
Ringing, ghosting, and softness towards edges of images often visible
Reduced detail and increased noise in medium- and long-range zoom
Depth estimation artifacts and unnatural blur gradient in bokeh mode
Video
Pros
Effective stabilization
Fast autofocus and fairly efficient tracking
Artifacts well-controlled overall
White balance accurate outdoors
Cons
Limited dynamic range
Noise visible
White balance color casts visible in lab testing
Low detail in dim light
.col.pros ul,
.col.cons ul {
list-style: none;
padding: 0;
margin: 0;
}
.col.pros li,
.col.cons li {
padding-left: 10px;
position: relative;
}
.col.pros li::before {
/* content: "f106"; */
content: url("https://cdn.dxomark.com/wp-content/themes/flatsome-child/assets/img/plus.png");
position: absolute;
top: 1px;
left: -15px;
padding-right: 15px;
color: green;
font-family: 'fl-icons' !important;
font-weight: bold;
}
.col.cons li::before {
/* content: "f107"; */
content: url("https://cdn.dxomark.com/wp-content/themes/flatsome-child/assets/img/minus.png");
position: absolute;
top: 1px;
left: -15px;
padding-right: 15px;
color: red;
font-family: 'fl-icons' !important;
font-weight: bold;
}
#shoutouts {
}
#shoutouts .img-wrap {
text-align: center;
height: 80px;
position: relative;
padding: 0px 20px 0 0;
}
#shoutouts .img-wrap img {
max-width: 100%;
max-height: 100%;
position: absolute;
top: 0;
bottom: 0;
left: 0;
right: 0;
margin: auto;
padding: 0 10px;
}
#shoutouts h3 {
line-height: 1.3;
margin-bottom: 10px;
min-height: 52px;
}
#shoutouts h4 {
font-size: 12px;
color: #888888;
}
#shoutouts .tile-wrap {
padding: 0 15px;
}
#shoutouts .tile-wrap > .col {
padding: 15px;
}
#shoutouts .col-inner {
border: 1px solid #dadada;
}