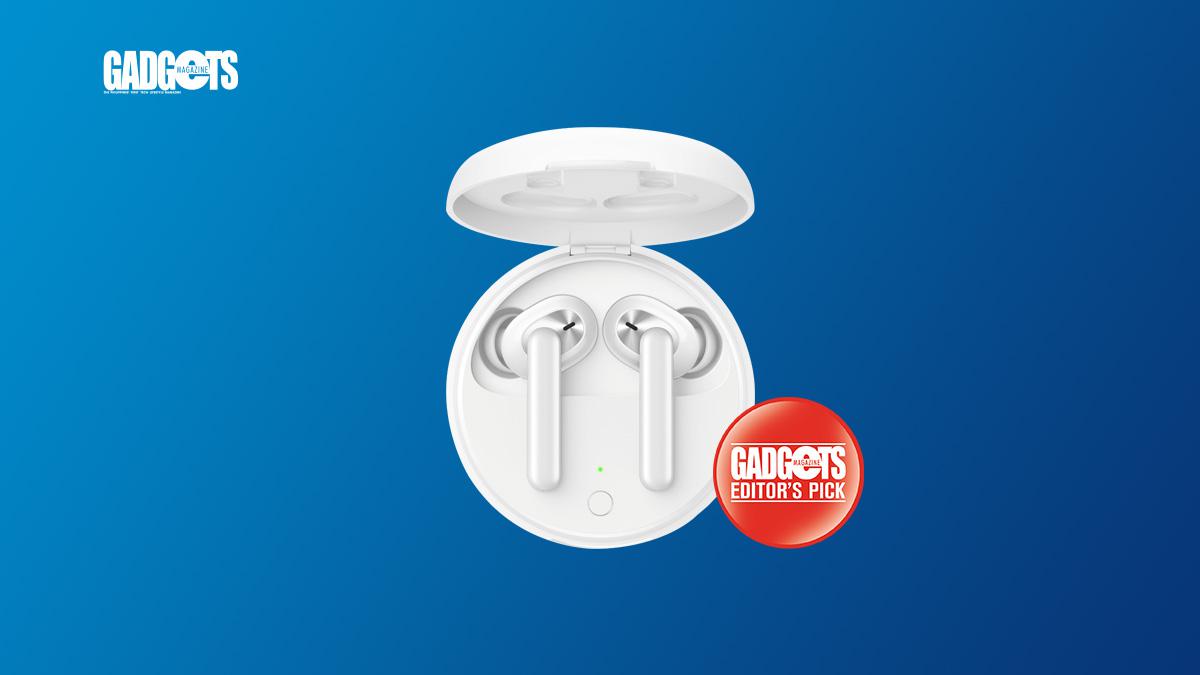 There's been a slew of wireless earphones launched by different brands recently, and with all the online meetings and webinars that we've had to attend these days, I'm sure people are looking for that perfect pair that offers great performance at a reasonable price point. Let's see how the Oppo Enco W31 stacks up.
DESIGN: 4/5
The Enco W31 is housed in a hard plastic case that looks like a large round pill. With the clamshell case open, you find the two earphones nestled in their individual grooves, to which they are magnetically attached, so there's no worry about their falling out accidentally. At the back, below the hinge is a USB-C port for charging. Each earphone itself is a nice ovoid shape with a small vertical strip containing the charging connectors. Thanks to extra eartips in the box, you can choose the one that gives you the best fit. The earphones are IP54-rated for dust and water-splash resistance, so they're good for most activities.
HARDWARE: 4/5
With Bluetooth 5.0 connectivity, the Enco W31 claims to have achieved one of the lowest latency in wireless headsets, thanks to simultaneous transmission to both earphones.
Each earbud also has its own built-in microphone with an anti-wind noise chamber for improved voice call clarity. Infrared sensors detect whether you're wearing the headphones, automatically connect to the paired device, and play/pause your audio.
Intelligent touch controls located on each bud let you control its functions. For example, a double tap on the left let's you toggle between Balanced and Bass mode; a double tap on the right moves to the next song; a triple tap on either side activates Siri (or your phone's voice assistant).
Rechargeable lithium-ion batteries power the Enco W31, with 25mAh on each earphone capable of delivering 3.5 hours of use. The charging case has a 350mAh battery that can deliver 15 hours of use on single charge. Charging time is about 2.5 hours.
USER EXPERIENCE: 4/5
The one problem I have with the Enco W31 is that the case is quite slippery hard to open because of the strong magnet keeping it closed, and it's slipped out of my hands a few times. I worry that one of these days, the case will take a hard fall and crack like an egg.
One of the best things I like about the Enco W31 is that instead of having a primary and secondary headphone, the transmission is simultaneous to both ears without any lag or other glitches. Unless I want to immerse myself in a particular Spotify playlist, I usually like to use just one earbud, and the Enco W31 is one of the very few headsets I've used that lets me just take out either earbud without being disconnected.
I usually fall asleep wearing earphones and, with some, I end up with painful ears in the morning. The Enco W31 does not fall in this category as its in-ear fit and flat surface means you can actually comfortably sleep on your side wearing these earphones and not feel any pressure.
Most importantly, let's talk audio quality. I personally prefer the Balanced mode on this pair, with good clarity across the highs, mids, and lows. Bass mode pumps up the volume and heavy rhythms for those looking for that more dynamic sound. Audiophiles may find separation a bit wanting, but as an all-around audio peripheral for smartphone use, the Enco W31 is a great all-around performer.
VALUE: 4.5/5
The Enco W31 is listed at a discounted PHP 2,990 at the official Oppo store on Lazada, marked down from the PHP 3,990 suggested retail price. This is surprisingly reasonable, considering its specifications and performance which you'd expect from more premium models.
Specifications:
Driver: 7mm dynamic driver
Driver sensitivity: 95db @ 1kHz
Frequency response range: -38 dBV/Pa
Bluetooth version: BT 5.0
Wireless range: 10m
Battery type: Rechargeable lithium-ion battery
Battery capacity: 25mAh (headphones), 350mAh (charging case)
Music play time (50% volume): 3.5h (single charge), 15h (with charging case)
Charging time: 2.5h (with charging case)
Charging port: USB-C Dust and water resistance: IP54
Weight: 50g
What's Hot:
You can use just one or both headphones
Quick connection
Automatic wearing detection
Comfortable fit
What's Not:
Bottomline
Highly recommended!
Reviewed by Maribelle Alba
Also published in Gadgets Magazine October 2020