Best Gaming Deals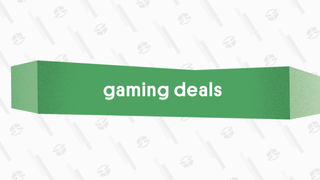 Best Gaming Deals
The best deals on games, consoles, and gaming accessories from around the web, updated daily.
Featured Deal: The Legend of Zelda: Breath of the Wild | $45
These are the best Nintendo Switch deals for October 2020.
Between the coming fall and the pandemic, it's prime time to find a comfy spot inside and lose yourself in a great game. Luckily, you can find some killer deals on Switch games right now, with gems like The Legend of Zelda: Breath of the Wild, Animal Crossing: New Horizons, Super Mario Odyssey, and others on sale.
It's also high time to grab a new GameCube-style controller or Ninty-certified 128GB memory card, and you'll find those and more below in our roundup of today's best Nintendo Switch deals. Jump on these bargains while they last!
The Legend of Zelda: Breath of the Wild | $45
Widely regarded as the Switch's crowning masterpiece and one of the greatest games of this generation, The Legend of Zelda: Breath of the Wild launched alongside the system more than three years ago. It's $15 off right now—a rare discount for this absolute gem.
G/O Media may get a commission
Super Mario Odyssey | $45
Nintendo made another all-time great with Super Mario Odyssey, a larger-scale exploration of the series' 3D branch. It has a bit more of a sandbox feel within large, open environments that are widely varied, and feels as wondrously creative as past gems like Super Mario 64 and Super Mario Galaxy. Save $15 right now.
Donkey Kong Country: Tropical Freeze | $45
The classic SNES franchise is still alive these days, with Donkey Kong Country: Tropical Freeze capturing the essence of the originals with bold and tricky new challenges ahead of you. This game originally debuted on the middling Wii U, but it's been enhanced for the Switch re-release. Better yet, it's $15 off right now.
Super Mario Party | $45

Get the party started in Super Mario Party, which reintroduces the classic local multiplayer board game battle for the Switch generation.
It's as likely as ever to elicit a mix of joy, rage, cheers, and boos alike as you compete in quick-hit mini-games around a digital game board. This version even lets you line up two Switch systems for multi-screen activities. It's $15 off at Best Buy and Amazon right now.
Animal Crossing: New Horizons | $50
If you're not one of the millions of Animal Crossing devotees that snapped up this perfect-for-pandemic chillfest this spring, now's your chance. Right now, Animal Crossing: New Horizons is $10 off, which is the best you're likely to see on a new copy anytime soon. Grab it while it lasts!
Super Smash Bros. Ultimate | $50
Super Smash Bros. Ultimate lives up to its boastful billing, delivering the best-ever edition of Nintendo's franchise-mashing brawler. The sheer amount of content here is simply staggering, with 80+ playable characters, dozens of stages, stellar online play, and a big adventure mode for you to battle through. Discounts on this gem are rare, so take advantage of this $10 savings at Amazon while you can.
Luigi's Mansion 3 | $50
In classic Nintendo fashion, Luigi's Mansion 3 takes an intense and adult-oriented genre (survival horror) and makes a super-charming, silly, and all-ages transformation of it. You don't need to have played the older versions to appreciate this recent adventure, which finds the other Mario brother sucking up ghosts with his vacuum pack and trying to rescue his friends after being duped into a stay at a haunted hotel. It's $10 off at Amazon right now.
Mario Tennis Aces | $50
Hit the court in Mario Tennis Aces, the latest and greatest entry in Nintendo's long-running, arcade-style sports bonanza. While the basics haven't really changed, this version introduces super-powered special shots, plus there's a single-player story mode complete with missions and boss battles. It's $10 off the regular price right now at Best Buy.
Splatoon 2 | $50

Even three years after release, Splatoon 2 remains one of the absolute best online multiplayer games on Switch. This vibrant riff on squad-based shooters has you blasting, tossing, and launching paint around levels to try and dominate the terrain, along with other other fun variations on the theme, a solid single-player campaign, and a great wave-based survival mode. Save $10 off at Best Buy right now.
New Super Mario Bros. U Deluxe | $50
If you're not keen on building your own levels, why not trust the experts and play the real deal? New Super Mario Bros. U Deluxe is an updated rendition of the Wii U original, delivering a classic-feeling side-scrolling Mario game with modern graphics.
You can play with up to four players, plus the Switch version has extra accessibility features to help younger players start playing quickly. It's $10 off right now.
Yoshi's Crafted World | $50
Yoshi's Crafted World is a super-charming platform adventure starring Mario's best dinosaur pal, all set in a world that looks like it's made of cardboard, yarn, and other found materials. It's $10 off right now at Best Buy.
Nintendo Switch Lite | $200

Maybe the tide is turning on all Switch hardware availability, because right now Amazon has two different color options for the Switch Lite in stock with shipping within the next two days.
The Switch Lite is a slimmer, cheaper version of the Switch that's fully portable: there's no TV dock or detachable controllers, plus it lacks motion controls or vibration. Essentially, unlike the hybrid Switch, this is a more direct successor to the Game Boy and DS heritage.
Pokemon Battle Switch Lite Stealth Case | $9

Want an eye-catching case to keep your Switch Lite console safe during travel? This PowerA Pokemon Battle Stealth case is a great pick, not only due to the explosive Pikachu vs. Mewtwo battle on the outside, but also the protection it provides and the pop-up stand feature that can prop up your Switch Lite. It's 40% off at Amazon.
The Legend of Zelda: Link's Awakening | $50

If you've already been through the brilliant Breath of the Wild, there's another stellar Legend of Zelda game on Switch. This one is decidedly more old-school in design… and that's because it's a remake of the classic Game Boy entry, Link's Awakening.
You wouldn't know it from a glance, however, as the whole game has been thoroughly redone in a glossy graphical style that makes it look like toy figurines at play. Amazon has it for $10 off right now, which is about the best deal we've seen online for a new copy.
SanDisk 128GB microSD Card for Switch | $26

If you're downloading games from the Switch eShop, then you'll probably need some extra space. Luckily, the Switch accommodates affordable microSD cards, and there are even Nintendo-branded versions from SanDisk.
This official microSD card has a Mario mushroom on it and is currently on sale for $26, marked down 25%. However, if you can deal without the branding, you can grab a standard 128GB SanDisk microSD card for $16… and it works just as well.
PDP GameCube-Style Mario Controller | $19

If you ask most die-hard Super Smash Bros. players, they'll swear that Nintendo's original GameCube controller from 2001 is the best way to play the game. Luckily, you can still get that experience on the Switch today.
PDP's officially-licensed wired Switch controller keeps the same look and feel of the original, and is great whether you're playing Smash or something else entirely. Right now, this Mario-themed edition is $6 off the regular price, but Amazon has several other designs at various prices.
---