Motorola touts the Edge+, its first flagship smartphone in some years, using a very long list of superlatives, to wit: the biggest battery of any 5G smartphone (no charging needed for two full days); the highest-resolution camera ever (one of a small handful of smartphones with a sensor that captures 108 megapixels); among the world's fastest mobile platforms (Qualcomm Snapdragon 865); the industry's "most advanced" video stabilization; a 6.7″ wraparound display that Motorola says can produce a billion shades of color; and on top of that, two stereo speakers that "produce the loudest audio output ever" by a smartphone. Motorola also trumpets intrinsic audio tuning from Waves, a past winner of a technical Grammy Award, to make the best of its hardware.
Needless to say, expectations are high.
We put the Motorola Edge+ through our rigorous DXOMARK Audio test suite to measure its performance both at recording sound using its built-in microphones, and at playing audio back through its built-in speakers. In this review, we will break down how it fared in a variety of tests and several common use cases.
Key audio specifications include:
Two stereo speakers, one front-facing and one on the bottom-left edge
3.5 mm audio jack
Three microphones
Tuning from Waves
About DXOMARK Audio tests: For scoring and analysis in our smartphone audio reviews, DXOMARK engineers perform a variety of objective tests and undertake more than 20 hours of perceptual evaluation under controlled lab conditions. This article highlights the most important results of our testing. Note that we evaluate Playback through the built-in speakers and Recording via the device's built-in microphones. Pre-installed apps at default settings are used for all testing. (For more details about our Playback protocol, click here; for more details about our Recording protocol, click here.)
Test summary
66
audio
With an overall score of 66, the Motorola Edge+ is above average among the smartphones we've tested, but still well below the top-tested Mi 10 Pro, which achieved an overall mark of 76. Lower scores in recording held back what could have been a more competitive showing.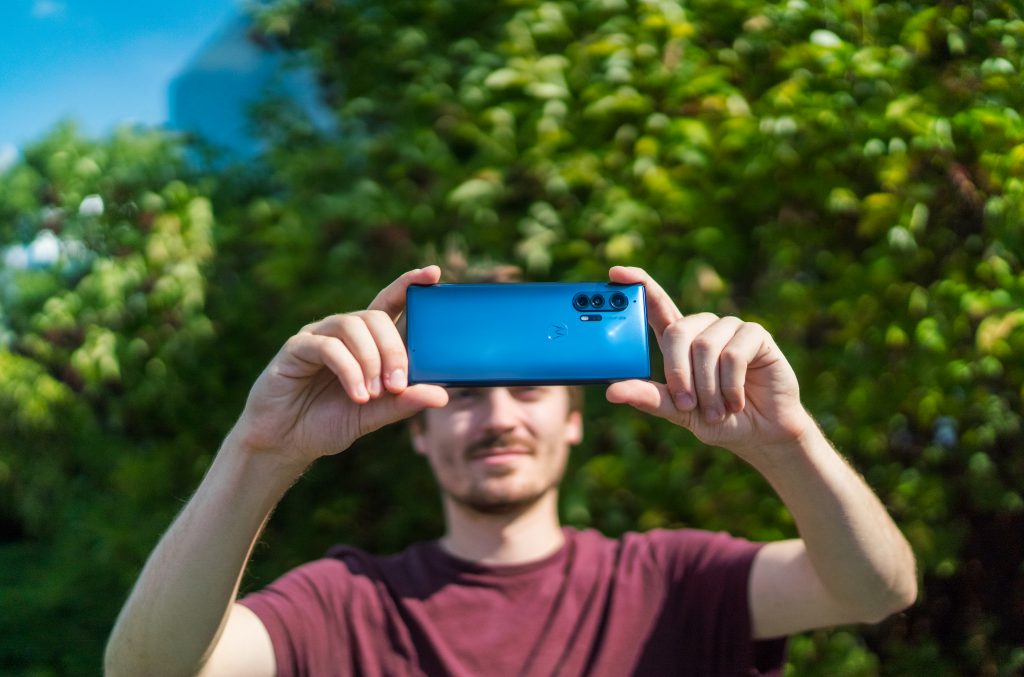 Recording video with the Motorola Edge+
The Motorola Edge+ produced its strongest results in Playback testing, with tonal balance benefiting from good high-end extension and clear trebles, which also improved dynamics, and a strong attack performance. The Edge+ scored particularly high as a platform for gaming. Its timbre performance was held back by a lack of " class="glossaryLink ">bass extension, a common issue in smartphone audio.
As a recording device, the Edge+ did not fare as well. On the plus side, it produced good tonal balance with natural rendering of voices, and it scored well in " class="glossaryLink ">localizability, thanks to its good high-end extension. But disappointing artifacts and volume performances were marked by spectral artifacts such as distortion and temporal artifacts in high SPL scenarios.
Sub-scores explained
The DXOMARK Audio overall score of 66 for the Motorola Edge+ is derived from its Playback and Recording scores and their respective sub-scores. In this section, we'll take a closer look at these audio quality sub-scores and explain what they mean for the user.
Playback
Timbre
DXOMARK Timbre tests measure how well a phone reproduces sound across the audible tonal range and takes into account bass, midrange, treble, tonal balance, and volume dependency.
Music playback frequency response
The Motorola Edge+ produced fairly good timbre performance overall. Good high-end extension and and clear trebles boosted the quality of tonal balance, earning high marks especially when playing classical music. The lack of low midrange and the excess of upper midrange tended to make voices sound a bit nasal. High mids can be overly aggressive, especially at maximum volume and in the gaming use case. Tonal balance suffers from the lack of bass extension, especially when the Edge+ is held in portrait mode.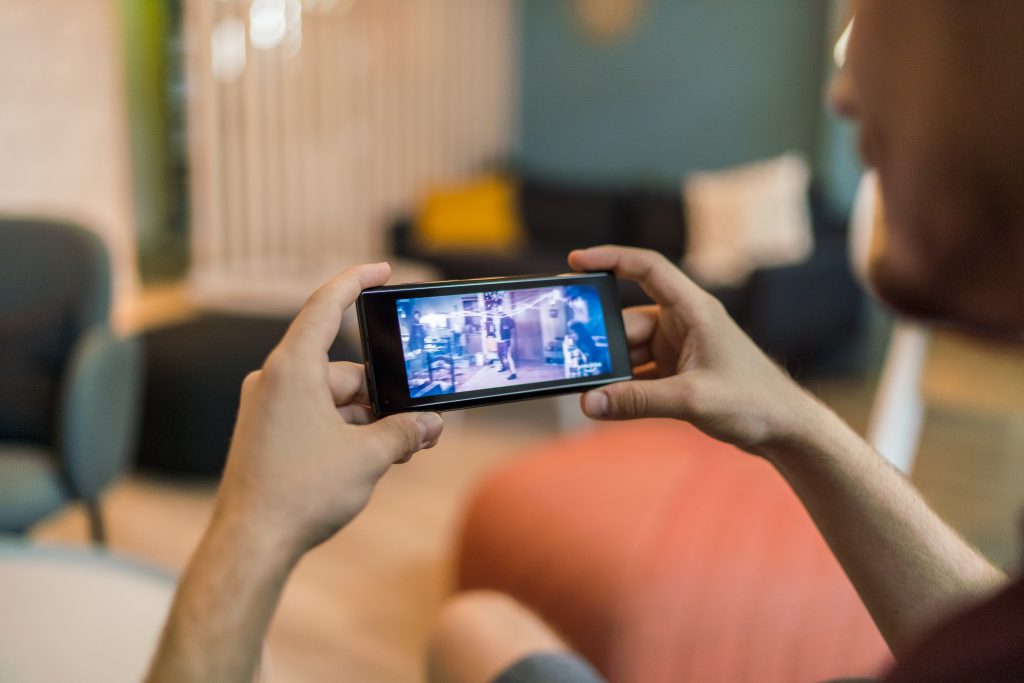 Watching video on the Motorola Edge+
Dynamics
Our dynamics tests measure how well a device reproduces the energy level of a sound source. The Motorola Edge+ earned an above-average score here, with clear trebles strengthening its attack. Transients were well preserved, particularly in the gaming use case. The lack of bass extension hindered bass precision as well as punch, especially when playing loud source material such as electronic music.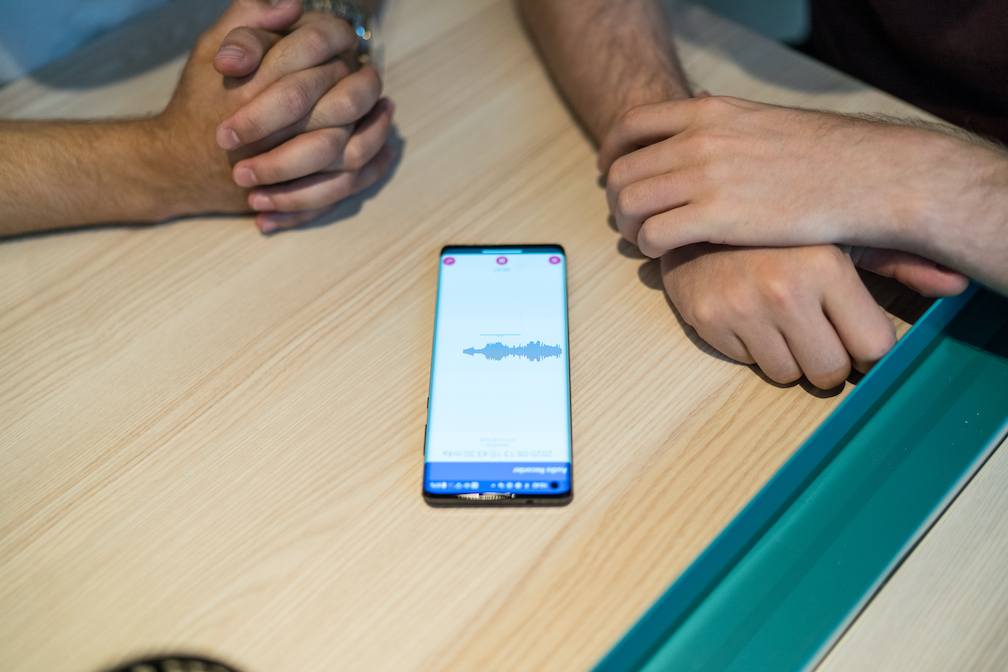 The Motorola Edge+ scored fairly well in dynamics.
Spatial
Spatial performance was a particularly bright spot for the Motorola Edge+. Clear trebles helped localizability, making it easy to locate sound sources in the audio field. Wideness performance also ranked well. In terms of balance, centered elements were perceived to be shifted slightly to the right. A great distance performance was notable particularly for clear trebles and a lot of upper midrange, both of which made voices seem close by.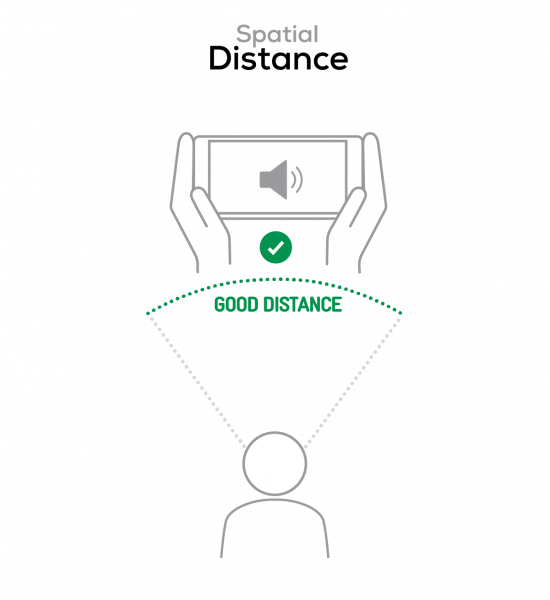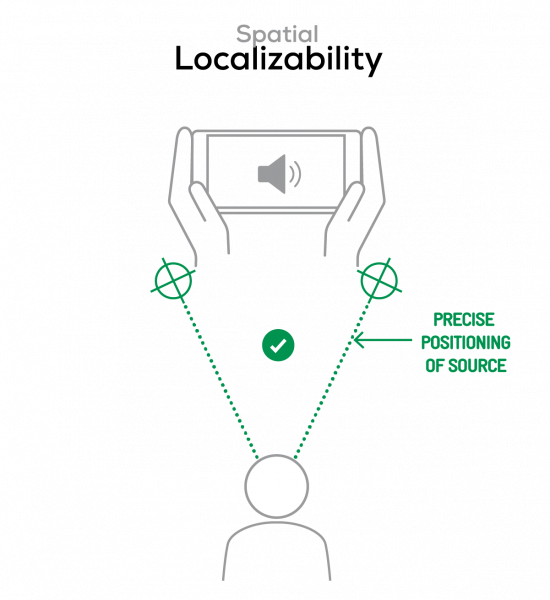 Good spatial localizability
Volume
Our volume tests measure both the overall loudness a device is able to produce and how smoothly volume increases and decreases based on user input. Here the Motorola flagship outshone even the Xiaomi Mi 10 Pro (which earned a 70 in this category and is the top scorer overall in our audio testing to date). The Edge+ performed well from maximum volume all the way to minimum, where soft content such as classical music was still perfectly intelligible.
Artifacts
Samsung Galaxy Note20 Ultra 5G
Our artifacts tests measure how much source audio is distorted when played back through a device's speaker. Distortion can occur both because of sound processing in the device and because of the quality of the speakers.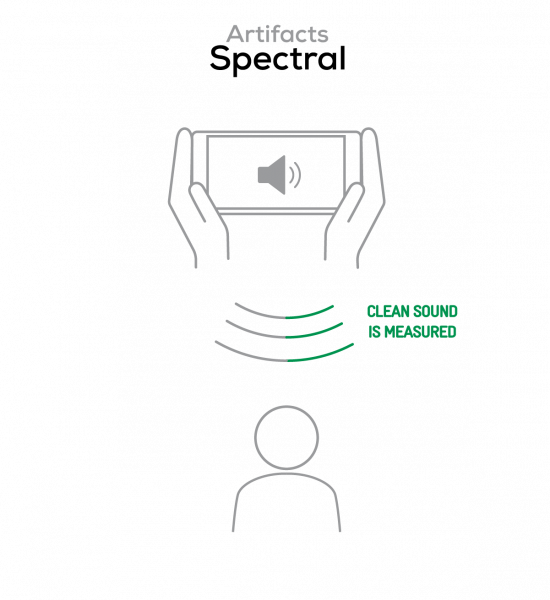 Distortion is well controlled.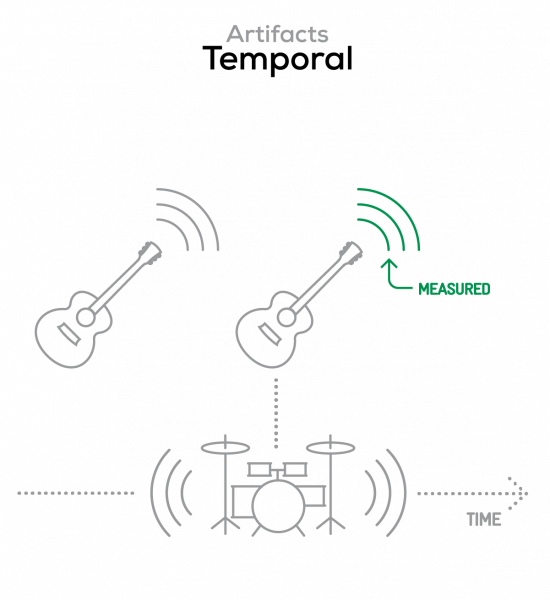 Fluctuations in volume are noticeable.
The Motorola Edge+ scored extremely well in artifacts performance, exhibiting zero temporal artifacts and slightly besting the Mi 10 Pro, which scored an 86 in this category. Our testers noted some distortion on loud contents at maximum volume and also said noise was slightly enhanced on the reference track. Good speaker placement helps avoid producing user artifacts (via occlusion with the fingers) during gaming sessions.
Recording
Timbre
The Motorola Edge+ did not perform as well as a recording device, though our testers noted it demonstrated above average timbre performance. Natural rendering of voices, thanks to good high-end extension, boosted tonal balance. All scenarios, however, suffered from a lack of low frequencies, giving the recordings a "canny" sound on playback. In a high SPL scenario (such as a live concert, or noise on a busy street), heavy distortions impaired tonal balance, with upper midrange and trebles too prominent.
Life video frequency response
Dynamics
The Motorola Edge+ earned above average marks for dynamics, although our testers noted that the background is slightly too loud, which cut into the smartphone's score in this category. The Edge+ performed well for signal-to-noise ratio (SNR) in the meeting use case despite some static noise in the background. (SNR is the ratio between the level of the recorded sound compared with the background noise.) In a high SPL scenario, the sound envelope was impaired by a lot of spectral artifacts, which had an impact on the rendering of short transients.
Spatial
The device scores in the middle of the pack when it comes to capturing the spatialization of sounds. It scored well on localizability with its good high-end extension, which helped place voices in the audio field. In life video, the device produced good wideness, but the same could not be said about wideness in selfie video. Voices tend to sound slightly far away, impairing distance performance, especially in the memo use case.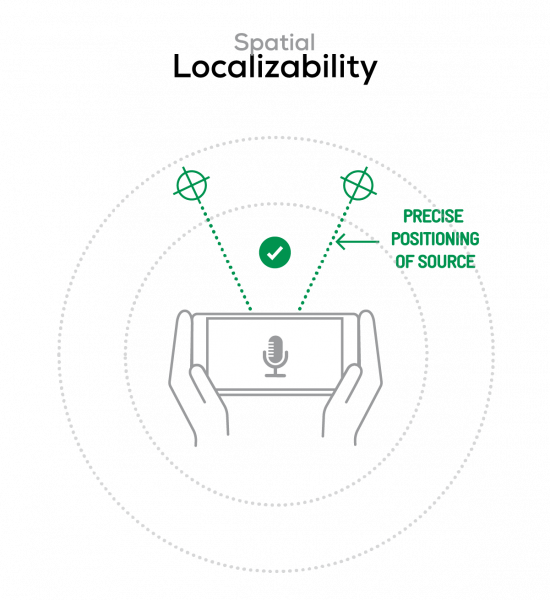 The Edge+ performed well in localizability …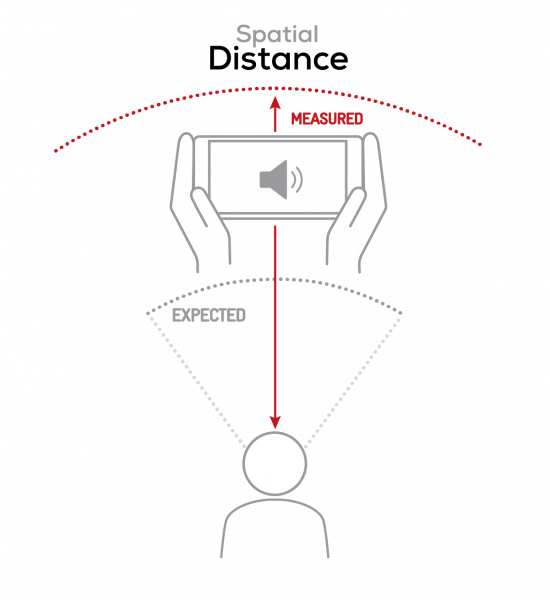 but not as well in spatial distance, as voices tended to sound far away.
Volume
The Motorola Edge+ did not do a particularly good job of preserving volume, scoring below average in all our use cases. A lot of spectral artifacts in a high SPL scenario heavily impaired volume performance. The device's life video performance was better, with fairly good loudness of voices.
| | | | | |
| --- | --- | --- | --- | --- |
| | Meeting | Life Video | Selfie Video | Memo |
| | | | | |
| | | | | |
| | | | | |
Artifacts
The Edge+ had a number of issues when it came to artifacts. Pumping and slight hissing were noticeable on loud voices and noises, and distortion could be heard on shouting voices. Background noises induced timbre modifications over time, producing muffled voices. In a high SPL scenario, our testers noticed many spectral artifacts such as clipping and distortion as well as pumping. On the bright side, the device handled microphone occlusions pretty well — they were not very noticeable. However, voices are shifted to the side in every app used, heavily impairing overall performance.
Background
The Edge+ was not particularly adept at recording background noise. The noise-canceling algorithm rendered outdoor background sounds unnaturally, and as a consequence, our testers could hear timbre modifications over time.
Conclusion
Though a flagship smartphone (and priced accordingly), the Motorola Edge+ ranks as an uneven audio performer among its peers. Aspects of its playback performance are strong, such as its tonal balance, supported by good high-end extension and clear trebles, which add to its dynamics and attack. The lack of bass extension is a limitation, affecting timbre performance. As a recording device, the Edge+ loses ground against its competitors. Its good qualities — tonal balance and a natural rendering of voices, with good localizability — are countered by a number of issues, including below-average artifacts and volume performances. Both attributes are hampered by spectral and temporal artifacts in a high SPL scenario.
Playback
Pros
Solid spatial performance and good localizability
Good audio in gaming use case
Great volume and artifacts performance
Cons
Timbre suffers from the lack of bass extension.
Some distortion on loud contents at maximum volume
Centered elements tend to be perceived to the right.
Recording
Pros
Good tonal balance and a natural rendering of voices
Solid localizability performance, thanks to good high-end extension
Above-average dynamics performance
Cons
In high SPL scenarios, distortion and spectral artifacts are noticeable.
Background noises induce timbre modifications, making voices sound muffled.
Lack of low frequencies contributes to "canny" sound.
.col.pros ul,
.col.cons ul {
list-style: none;
padding: 0;
margin: 0;
}
.col.pros li,
.col.cons li {
padding-left: 10px;
position: relative;
}
.col.pros li::before {
/* content: "f106"; */
content: url("https://cdn.dxomark.com/wp-content/themes/flatsome-child/assets/img/plus.png");
position: absolute;
top: 1px;
left: -15px;
padding-right: 15px;
color: green;
font-family: 'fl-icons' !important;
font-weight: bold;
}
.col.cons li::before {
/* content: "f107"; */
content: url("https://cdn.dxomark.com/wp-content/themes/flatsome-child/assets/img/minus.png");
position: absolute;
top: 1px;
left: -15px;
padding-right: 15px;
color: red;
font-family: 'fl-icons' !important;
font-weight: bold;
}
#shoutouts {
}
#shoutouts .img-wrap {
text-align: center;
height: 80px;
position: relative;
padding: 0px 20px 0 0;
}
#shoutouts .img-wrap img {
max-width: 100%;
max-height: 100%;
position: absolute;
top: 0;
bottom: 0;
left: 0;
right: 0;
margin: auto;
padding: 0 10px;
}
#shoutouts h3 {
line-height: 1.3;
margin-bottom: 10px;
min-height: 52px;
}
#shoutouts h4 {
font-size: 12px;
color: #888888;
}
#shoutouts .tile-wrap {
padding: 0 15px;
}
#shoutouts .tile-wrap > .col {
padding: 15px;
}
#shoutouts .col-inner {
border: 1px solid #dadada;
}
In the Press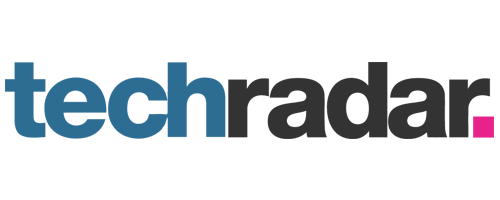 Motorola Edge+ review
Sep 21, 2020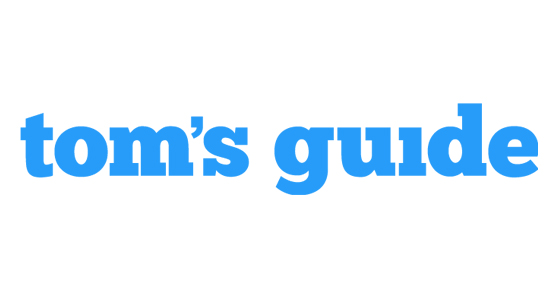 Motorola Edge Plus review
Sep 21, 2020