[ad_1]

Zeus starts is a retro style beat´m up inspired by the arcade games of the 80´s.
Influenced by games like Double Dragon and Golden Axe and so a lot of references to films, anime and other games.
The young Zeus has to cross Greece and attain the Olympus to defeat Cronus, his father.
On his journey he will have to fight with a multitude of mythological creatures and overcome the distinct dangers that arise along the way.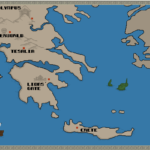 Functions
– Classic and addictive gameplay
– 16 bits graphics
– Retro, arcade, beat´m up 100%
– Final bosses
– Shoot´m up bonus levels
– Diverse enemies for every single level
[ad_2]