[ad_1]

A tiny significantly less than a year ago, Frank_fjs (creator of the Sentinel supergun) came up with the style of two separate boards that, when connected collectively, act as a appropriate jamma extender. The boards are connected through two cables: a 24-pin ATX cable accountable for energy, video and audio, and a 34-pin IDC cable accountable for inputs and almost everything else.
The style for each boards have been created out there for download by means of the project's official thread and at some point a handful of batches have been made by diverse men and women, such as the creator himself (Frank_fjs's batch also added help for HAS kick harness). Arcade-Projects user Benime's version of the extender caught my consideration the most primarily due to its its pleasing aesthetics and cable-length (60 cm) that fits my stationary setup completely. I ordered a kit, lately received it and place it by means of its paces.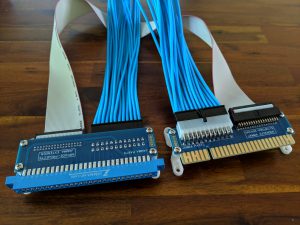 On the technical side of items, the soldering function right here is just impeccable. Each PCBs have ENIG finish covering the copper pads. The incorporated blue ATX cable is created of higher-grade 18AWG wires and the IDC cable has strain-relief. The jamma finger appears to match nicely into the HAS's edge connector, when the incorporated feet are conveniently screwed into location. I tested the extender with the CPS2 (Darksoft multi-kit), Neo-Geo (Darksoft multicart), PGM IGS, Midway Wolf Unit, Sega Method 32 and a handful of other boards and had zero concerns with it.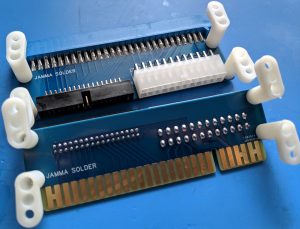 The entire kit is relatively priced at 68$ (shipped). Regrettably, Ben informed me that he has a handful of kits left in stock, as soon as they're gone, they're gone. But once more, the primary style for the PCBs is nevertheless out there to grab for any individual, with the acceptable capabilities, to make their personal boards.
Head on to the Arcade-Projects thread and order a kit when they're nevertheless out there: https://www.arcade-projects.com/forums/index.php?thread/8763-fs-60cm-arcade-projects-jamma-extension-cables/
Frank_fjs's original thread: https://www.arcade-projects.com/forums/index.php?thread/7041-arcade-projects-jamma-extension-cables/
[ad_2]